FutureLearn Unlimited Discount Code [30% OFF]
Disclaimer: This post is NOT sponsored. Some product links are affiliate links which means if you buy through those links, you won't pay anything extra and we'll also receive a small commission on a purchase.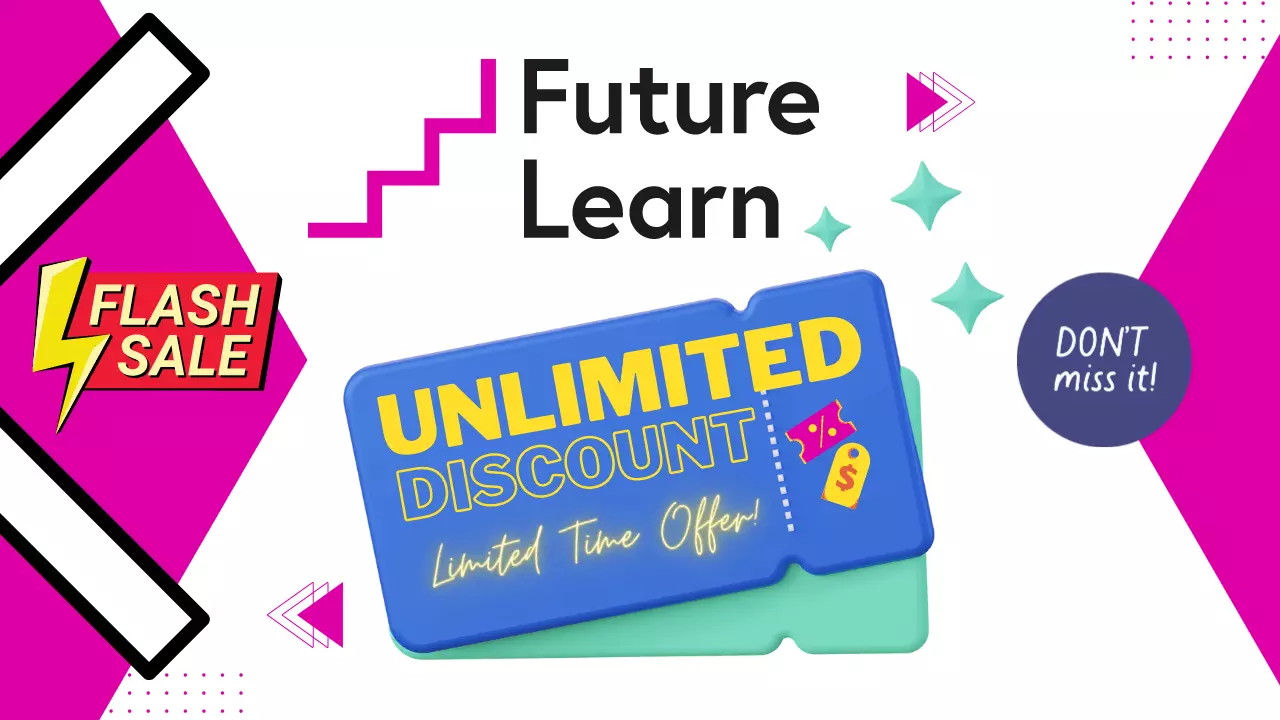 With the current active FutureLearn Unlimited discount, you can get upto 30% off on your annual Unlimited subscription!
The 2012 born UK based e-learning platform, FutureLearn, offers a wide variety of online learning programs for 10+ major subjects like business, computer science, law, psychology and many more in the form of short online courses, expert tracks, micro-credentials and online degrees.
Table of Contents
FutureLearn Unlimited Discount in 2023 (Active)
Get 30% discount for annual FutureLearn Unlimited subscription to enjoy unlimited access to more than 1,000 online short courses from renowned institutions and companies.
This is a limited-time offer that might end anytime.
A short summary of original FutureLearn Unlimited subscription price and reduced prices are provided below.
| | | | |
| --- | --- | --- | --- |
| Country | Actual Price | Discount | Discounted Price |
| India | ₹6,500 | 30% | ₹4,550 |
| United States (US) | $349.99 | 30% | $244.99 |
| United Kingdom (UK) | £249.99 | 30% | £174.99 |
30% discount is also available for residents of other countries wherever FutureLearn has launched this offer.
Is FutureLearn Unlimited worth it?
Yes, definitely. And here's why:
FutureLearn Unlimited is worth it because you can get access to all the 1000+ short courses with good quality content from some of the world's leading universities and organisations in FutureLearn that also offers a Certificate of Achievement once you're eligible.
And there's no limit when it comes to how many courses you can take in a month or year — you can take as many as you like. That's a huge benefit, especially when you want to utilise your spare time to develop your skills but don't know when's that time.
So, it's definitely worth it if you're a student who wants to learn more about a specific topic or even if you're a working professional who's looking to keep up with industry standards by learning new skills and gain some certifications in your domain.
FutureLearn Unlimited Benefits
FutureLearn can be a great place for you if you're looking to pursue a new interest, reignite an old one, advance in your job, or quick-track your professional growth.
FutureLearn offers flexible short online courses in business, computer science, psychology, law, medicine and other core subjects. You can gain the knowledge and skills you need to help you succeed in your field.
With FutureLearn Unlimited membership, you can:
Get access to thousands of FutureLearn short courses.
Earn a printed digital Certificate of Achievement for all short courses that you complete successfully.
Get the liberty to continue having access to any courses for which you have received a digital Certificate of Achievement.
Have the freedom to finish any short course you want at your own pace.
However, there are some limitations. FutureLearn Unlimited does not include:
Paid Upfront courses (including Microcredentials)
Subscription Access courses included in an ExpertTrack
Program assessments
Degrees (although open taster courses are included)
How much does FutureLearn cost?
As of now, FutureLearn Unlimited has two plans for individuals: monthly & yearly subscription.
Cost of FutureLearn Unlimited monthly subscription is $27.99 and it's annual subscription is priced at $279.99.
However, you can avail 30% discount on FutureLearn Unlimited with this offer.
Is FutureLearn Free?
No, FutureLearn is not completely free. It has monthly and yearly subscription plans, only through which we can access their premium online courses. However, there are few free online courses in FutureLearn which can help beginners to learn the fundamentals in respective topics.
Final Words
So there you have it, everything you need to know about this FutureLearn Unlimited discount!
I hope this information was of some help to you, and hopefully you can now head over to FutureLearn and get your hands on this 30% discount deal without thinking too much.
Furthermore, if you have any questions, please feel free to ask us.
Happy Learning!