10 Best Business Courses on Coursera
Disclaimer: This post is NOT sponsored. Some product links are affiliate links which means if you buy through those links, you won't pay anything extra and we'll also receive a small commission on a purchase.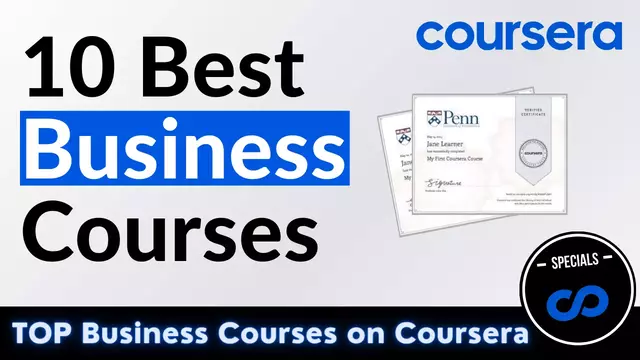 If you want to get into the finance or business industry, perhaps to start your own company and work for yourself, you will most likely attend one of the prestigious universities and earn your bachelor's or master's degree so that you are confident that you know exactly what you should do to begin following your passion.
A college education is extremely expensive, and many people cannot afford it. But what if I told you that you can take online classes that are significantly less expensive than college and are also offered by these major universities via a platform called Coursera.
This article will show you some of the best business courses on coursera, created by many prestigious universities to teach you finance, entrepreneurship, and how to start your own business.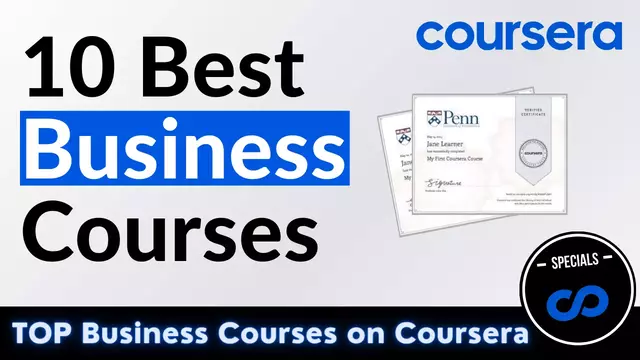 Top 10 Business Courses on Coursera
You will gain basic literacy in business language through this business specialization course, which you can use to transition to a new career, start or improve your own small business, or apply to business school to further continue your education.
This course will teach you the fundamentals of marketing, accounting, operations, and finance in just five modules.
You will learn the following skills:
Marketing
Accounting
Financial Reports
Financial Statements
Decision-Making
This specialization course will guide you through the process of starting your own business. You will go over a series of topics that are essential for starting a successful business, such as mindset, ideation, planning, action, and strategy. Rather than simply telling you what to do, the emphasis will be on guiding you through the process of doing it.
You will learn the following skills:
Leadership
Understanding Startup
Planning
Entrepreneurship
Entrepreneurship is a specialization that focuses on the conception, design, organization, and management of new businesses. This five-course series will guide you through the process of identifying opportunities, launching them, growing them, financing them, and profiting from them.
You'll gain an entrepreneurial mindset and the skills needed to start a new business with the potential for growth and funding or to identify and pursue opportunities for growth within an existing organization.
You will learn the following skills:
Business Development Strategies
Finance
Entrepreneurship
Planning
Brand Administration
Marketing
This specialization is designed for new business professionals who want to improve their management, leadership, finance, and digital marketing skills with the ultimate goal of preparing them to run or participate in the functioning of the company.
Learners will cover people management, key leadership characteristics, strategic planning, search engine optimization strategies, content creation, common financial statements, cash flow, and expense management throughout the three courses.
You will learn the following skills:
Planning Strategically
Storytelling
Leadership Personality
Education and Training
Establishing Goals
This specialization course examines the dynamics as well as the global aspects of strategic management. You'll learn how to assess industry evolution, create and sustain competitive advantage, develop and evaluate business strategies, and align efforts with organizational strategy.
You will learn the following skills:
Strategic Leadership
Business Planning
Strategy for Innovation
Development strategy
Execution of Strategy
This Specialization introduces all business professionals, including those with no prior analytics experience, to big data analytics. You'll learn how data analysts describe, predict, and inform business decisions in marketing, human resources, finance, and operations. You'll gain basic data literacy and an analytic mindset to help you make data-driven strategic decisions.
You will learn the following skills:
Customer Intelligence
Business intelligence
Mathematical Optimisation
Management of Talent
Performance Evaluation
The business and Financial Modeling Specialization course are intended to help in making sound business and financial decisions. These introductory specialization courses will teach you how to use spreadsheet models, modeling techniques, and common applications for investment analysis, company valuation, forecasting, and more.
When you finish the Specialization, you'll be able to describe realities, build scenarios, and predict performance using your data.
You will learn the following skills:
Financial forecasting
Microsoft Excel
Solver
Risk
Flow of Cash
In an era of thriving businesses, both large and small, it is critical to have a thorough understanding of the building blocks of a successful organization. Building, growing, and sustaining a successful business necessitates extensive knowledge in a variety of fields.
This 6-course Specialization in Business Value and Project Management will provide you with a well-rounded understanding of three key aspects of the business – Financial Accounting, Project Management, and Organizational Management.
You will learn the following skills:
Organizational Design
Financial Accounting
Accounting
Financial Report
Statement of Cash Flow
In this specialization, you will examine the fashion industry and how it can become a more inclusive, diverse, and equitable expression of itself. You'll discover how fashion retail can create memorable, immersive, and innovative experiences that will help you and your brand remain relevant in an age of increased competition and shifting consumer models.
You will learn the following skills:
Fashion Designing
Retail Operations Management
Development & Research (R&D)
This specialization offers a thorough introduction to the fundamental principles and practices of information systems management. Further divided into four courses – Each course will address the issue of change management and discuss strategies and approaches for successful implementation.
You will learn the following skills:
Project Administration
Analytical Skills
Management
IT Knowledge and Skills
Final Words
That concludes our look at the top Coursera courses for Business, Finance, and Entrepreneurship. Those are nearly the best courses and specializations offered by major universities for learning about business and starting to turn your ideas into an organization.