Udacity Coupon Code (Limited-time Exclusive 60% Discount)
Disclaimer: This post is NOT sponsored. Some product links are affiliate links which means if you buy through those links, you won't pay anything extra and we'll also receive a small commission on a purchase.
Hey, do you want to purchase any Udacity Nanodegree program but hesitant because of its price tag?
Don't worry. You are at the right place.
I'm going to share an exclusive Udacity coupon code using which you can get up to 60% discount on Udacity Nanodegree programs.
Udacity Exclusive Discount
Use the special link below and apply the coupon at checkout to claim your 60% discount.
Udacity is one of the highly reputed online learning platform with more than 16 million users from 200+ countries. In a recent survey of Udacity Nanodegree program graduates, the platform revealed that 73% of graduates reported a positive career change in the first 12 months of completing a Udacity Nanodegree program.
So taking that Nanodegree program on Udacity can be a life changing moment for you. Without wasting anymore time, let's see about the Udacity discount coupon.
Udacity Coupon for Nanodegree Programs [Active]
Get 60% discount on any Udacity Nanodegree program by using the coupon code "LABORDAY60".
This Udacity coupon will be valid only for a limited time, so use it before the discount code expires.
Here is a Quick Overview of Udacity Nanodegree Offer:
Udacity Coupon: LABORDAY60
Udacity Offer: 60% discount on Udacity Nanodegree programs
Offer end date: September 8, 20‍23 at 11:‍59 pm P‍T
How to get discount on Udacity?
Let us quickly see how you can use this Udacity coupon code at checkout to claim your 60% discount for Nanodegree programs.
Step 1: Click Here to visit the Udacity e-learning platform.
Step 2: Login to your Udacity account.
Step 3: Visit the Udacity Individual Learners Catalog to find the Nanodegree that you want.
Step 4: Select the Udacity Nanodegree in which you want to enroll and open it by clicking on its title.
Step 5: Click on the "Enroll Now" button in the Nanodegree page.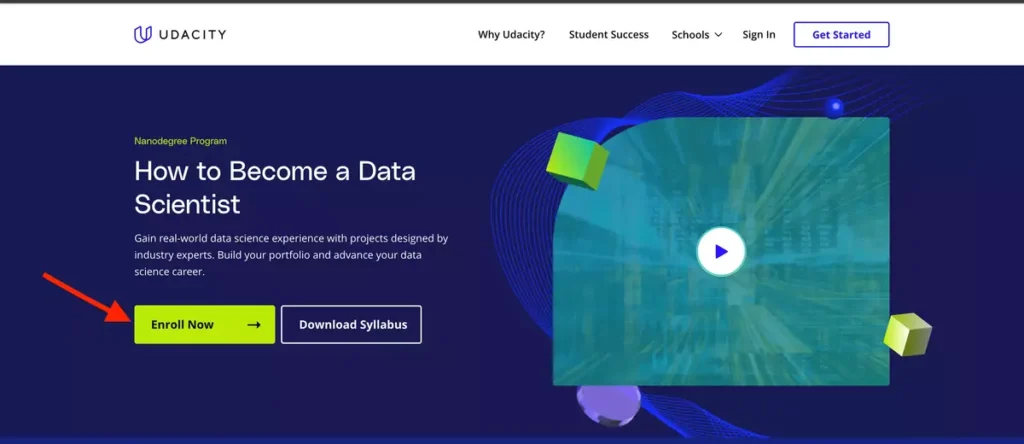 Step 6: Here, there will be 2 different options for you to enroll in the Nanodegree program. One is the regular Monthly access option and the other is 4-Month access in which you can pay upfront for 4 months to get an extra 15% discount comparing to the first option.
Choose the appropriate option based on your preference and proceed to the next step.
Step 7: In the checkout page, click on "I have a coupon code" and enter this Udacity code "LABORDAY60" in the coupon code box. And then, Click on "APPLY" to get your 60% discount for the Udacity Nanodegree program.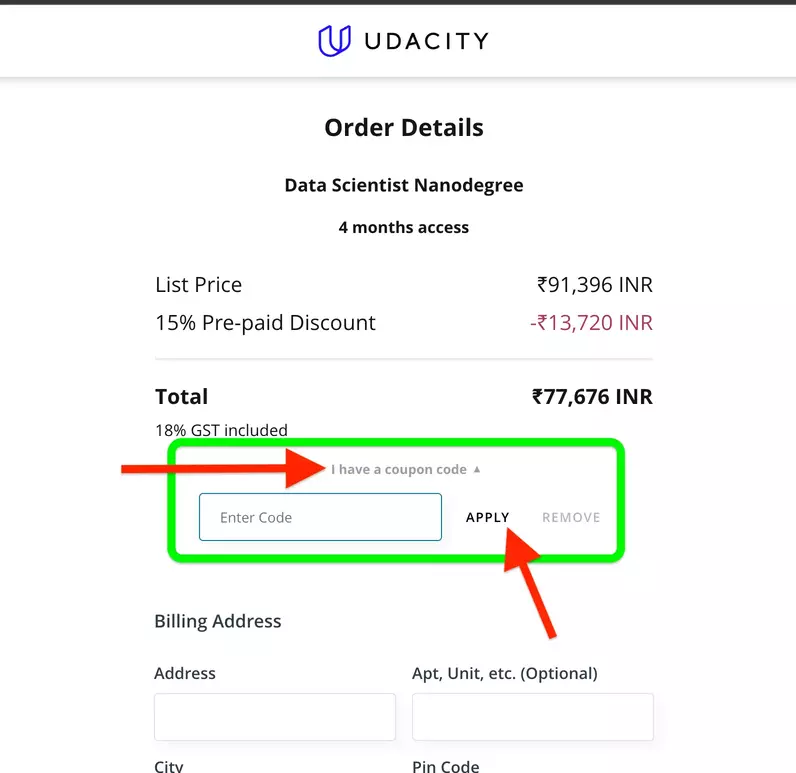 That's it. Now you would have got the maximum possible Udacity discount by using the LABORDAY60 coupon.
Step 8: You can now proceed further and enter the Billing Address details. Then, click on "CONTINUE" to move forward to the payment section and purchase the Udacity Nanodegree program.
Udacity Nanodegree Programs
Udacity Nanodegree program is a collection of premium courses created by industry experts through which you can learn a set of skills that you'll need to become a professional in your field.
Udacity offers 50+ Nanodegree programs under various domains such as artificial intelligence, business, cybersecurity, cloud computing, data science, programming and more.
While all their programs provide exceptional value for money, some of them are extra special to the Udacity users. Here are the top 10 Udacity Nanodegree programs based on user reviews.
Udacity Free Courses
Does Udacity offer free courses?
Yes, some of the Udacity courses are 100% free.
Udacity offers 200+ free courses through which we can learn about data science, artificial intelligence, product management, and more.
Udacity does not provide certificate for completion of free courses but however you can earn a verified certificate for their Nanodegree programs.
Udacity Scholarship for Nanodegree Programs
Udacity also provide some scholarships for its users by collaborating with an organization or a company. These Udacity scholarships are limited in numbers but it does provide immense value to the people who get it.
Some of the popular Udacity scholarship programs are:
Bertelsmann Tech Scholarship
AWS AI & ML Scholarship
AWS Machine Learning Engineer Scholarship Program
OneTen/BIT Scholarship Program
Aspire to Tech Scholarship
Access Bank Scholarship
Udacity Personalized Discount Coupon
Apart from the above mentioned Udacity coupon code, you can also make use of the Udacity personalized discount offer.
To receive your own Udacity personalized discount coupon, you have to answer two simple questions and provide your email ID. Once you submit it, you can get your unique Udacity promo code. You can then use that personalized discount coupon at checkout to claim your discount.
Final Words
Udacity is an amazing online learning platform that is consistently providing value to the learners through their Nanodegree programs with updated industry relevant curriculum.
So what are you waiting for? Go ahead and improve your tech skills by enrolling in their Nanodegree programs.
I hope that the availability of this Udacity discount code will add an extra layer of affordability to this already valuable learning experience.
FAQ's about Udacity Coupons
1. Are Udacity Nanodegrees worth it?
Absolutely, Udacity nanodegrees are worth it. They offer focused, industry-relevant content with project-based learning, flexible study options, and valuable career services. It's a practical path to gain skills and enhance your career prospects.
2. Is there any 100% OFF Udacity coupon code?
No, Currently there isn't any Udacity code that can provide 100% discount. So if you see someone providing a 100% Off Udacity promo code, just know that it is a fake one.
3. What if I see "Coupon is invalid"?
If you see "Coupon is invalid" after entering a code, it means that the Udacity coupon which you have used now has expired.
4. Is there any Udacity student discount?
No, as of now there isn't any specific Udacity discount for students.
5. Will this Udacity coupon work on all Nanodegree programs?
Yes. This Udacity Nanodegree coupon code "LABORDAY60" works in all their courses.
6. When does Udacity offer discounts?
Udacity provide promo codes occasionally using which we can get discount on Nanodegree programs. You can expect Udacity discounts on special days like Labor Day, Black Friday, Cyber Monday, etc.