Microsoft Free Generative AI Courses with Certificate
Disclaimer: This post is NOT sponsored. Some product links are affiliate links which means if you buy through those links, you won't pay anything extra and we'll also receive a small commission on a purchase.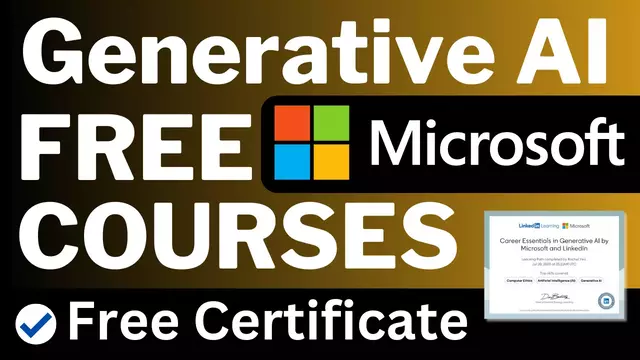 Are you looking for Microsoft free generative AI courses? Here it is.
Microsoft and LinkedIn launched a free generative AI learning path through which we can learn the core concepts of artificial intelligence and generative AI functionality.
There are 5 courses in this "Career Essentials in Generative AI by Microsoft and LinkedIn" learning path and it'll cover all the basics of Generative AI in about 4 to 5 hours.
Anyone interested in learning about how Generative AI works can enroll in this program and you'll be eligible for a professional certificate from Microsoft if you complete the program successfully.
Table of Contents
Microsoft Free Generative AI Courses
By taking the 5 courses in this "Career Essentials in Generative AI by Microsoft and LinkedIn" learning path, you can:
Acquire a working knowledge of generative AI models.
Learn about the ethical implications of employing generative AI.
Assess the effects of generative AI techniques.
Learn about the basics of generative A.I., including its history, popular models, how it works, ethical implications, and much more.
Explore the distinctions between search engines and reasoning engines, with a focus on learning thoughtful search strategies in the world of generative AI.
Learn how to leverage Microsoft Bing Chat to streamline and automate your work.
Learn why ethical considerations are a critical part of the generative AI creation and deployment process and explore ways to address these ethical challenges.
You can get a simplified overview of the top tools in artificial intelligence in this AI course.
How to Enroll in these Free Generative AI Courses by Microsoft?
Click on the button below and go to the official Generative AI learning path offered by Microsoft and LinkedIn. You can easily sign up with your LinkedIn account and take the courses.
Final Words
Make use of these free generative ai courses and improve your AI skills.
After finishing all of the courses and topics in this learning path, you can take the final exam.
If you pass, you will immediately have access to your professional certificate from Microsoft, which you can add to your LinkedIn profile and share with others.
Want to learn more about generative AI? Check these free generative AI courses offered by Google.