GeeksforGeeks Coupon Code (Upto 55% Exclusive Discount)
Disclaimer: This post is NOT sponsored. Some product links are affiliate links which means if you buy through those links, you won't pay anything extra and we'll also receive a small commission on a purchase.
Are you going to purchase a GeeksforGeeks online course to upgrade your skills?
Hold on. It's time to save some bucks.
Because we have a special GeeksforGeeks discount code for you, so don't worry.
If you are looking to buy any self-paced course or live course from GeeksforGeeks (GFG), I'm sure you'll find this exclusive 20% off GeeksforGeeks coupon code very useful.
Table of Contents
GeeksforGeeks Coupon Code 2023 (Active)
Get 20% discount on all self-paced and live GFG courses by applying the coupon code ANSWERSQ20.
This GeeksforGeeks coupon code is valid only for a limited time, so use it before September 30, 2023.
A short summary of all GeeksforGeeks discount coupons are provided below.
*Please note that the above mentioned coupons will work only on those respective courses.
How to Apply GeeksforGeeks Coupon Code?
Let us quickly see how you can use the GeeksforGeeks coupon code at checkout to claim your applicable discount based on the course you choose.
Step 1: Click Here to visit the course catalog page in GeeksforGeeks.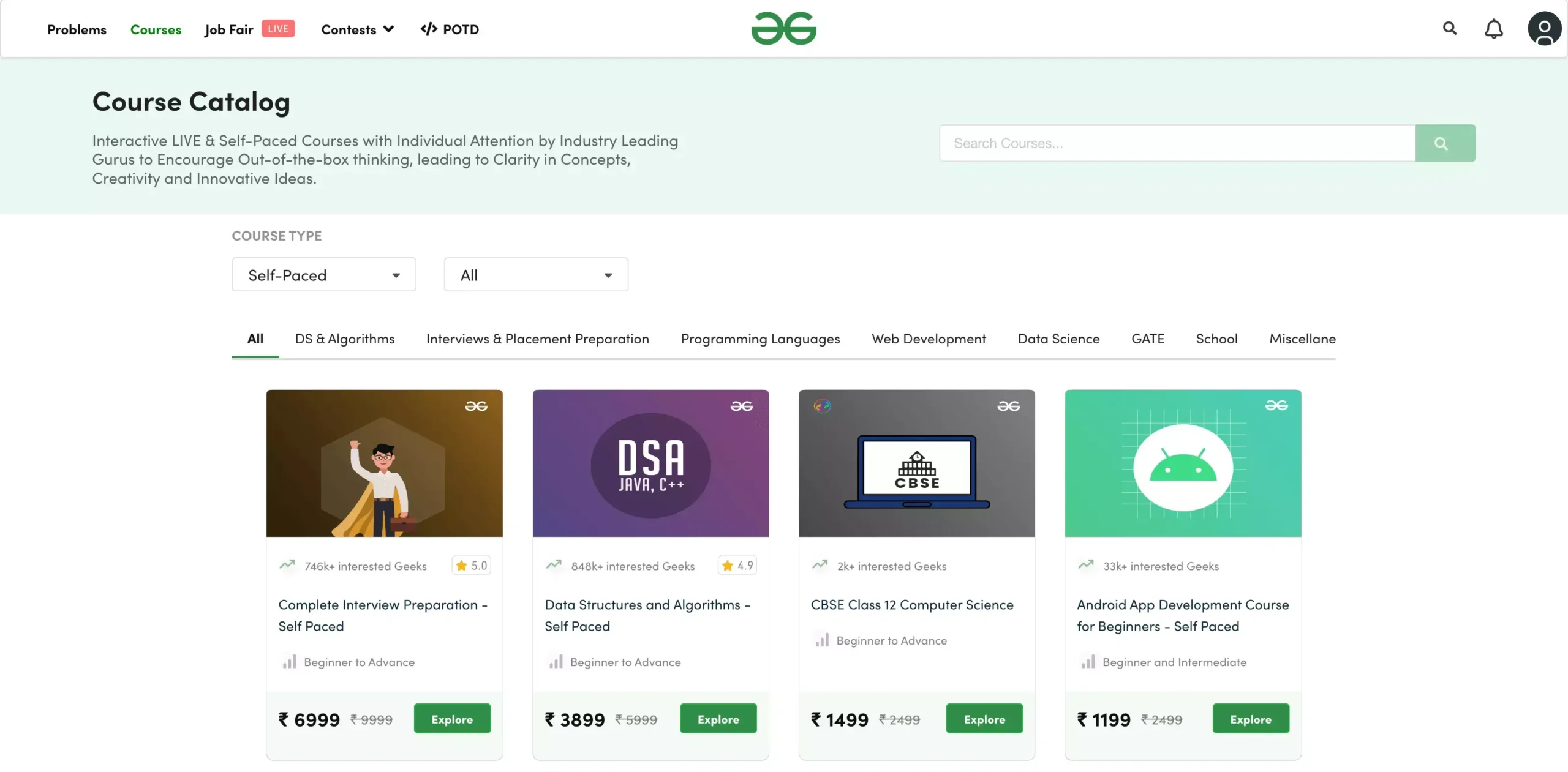 Step 2: Login to your GeeksforGeeks account.
Step 3: Choose your course and go to that particular course page. You can also use the table given above this section to directly visit the individual course page.
Step 4: Click on the "Sign-Up Now" button and go to the payments page.

Step 5: Click on "Have a coupon?" and apply the coupon at the checkout to get your discount.

That's it. You would have got the maximum discount for that particular course which you chose after applying the coupon code.
You can now proceed further to make your payment and purchase the course.
GeeksforGeeks Courses
GeeksforGeeks offers interactive LIVE & self-paced courses on various topics like data structures and algorithms (DSA), interview preparation, programming languages, web development, data science and more.
All of their courses comes with a lifetime access and you can get a course completion certificate after completing a course successfully. They are also providing free doubt support and assistance for upto 6 months.
Here are some of the most popular courses on GeeksforGeeks:
GeeksforGeeks Plans & Pricing
Currently, GeeksforGeeks offer two type of courses: Live and Self-Paced.
GeeksforGeeks does not have any subscription model, which means all courses have their own individual price. Self-Paced courses are comparatively low priced but both has its own pros and cons.
I recommend live courses to my closed ones because generally we pay more attention to live courses and completion rate is also higher for live courses.
But that doesn't mean you shouldn't opt for self-paced ones. We all have different ways of getting things done, choose an appropriate one for you.
GeeksforGeeks Free Courses
Now let's see how to get geeksforgeeks courses for free of cost.
While most of the geeksforgeeks courses can be accessed only after purchasing it, there are few courses which we can take for free.
Yes, GeeksforGeeks (GFG) also offers 10+ free online courses through which you can learn the fundamentals of python, data science, java programming and a lot more.
Final Words
GeeksforGeeks (GFG) is undoubtedly one of the best learning platforms when it comes to computer science and associated topics.
So without wasting anymore time, go ahead and use the active coupon code ANSWERSQ20 at checkout to save 20% on any GeeksforGeeks course. For other individual course based coupons, check out the table under GeeksforGeeks coupon code section.
Happy Learning!