CFI Coupon Code (Limited-Time Exclusive 40% Discount)
Disclaimer: This post is NOT sponsored. Some product links are affiliate links which means if you buy through those links, you won't pay anything extra and we'll also receive a small commission on a purchase.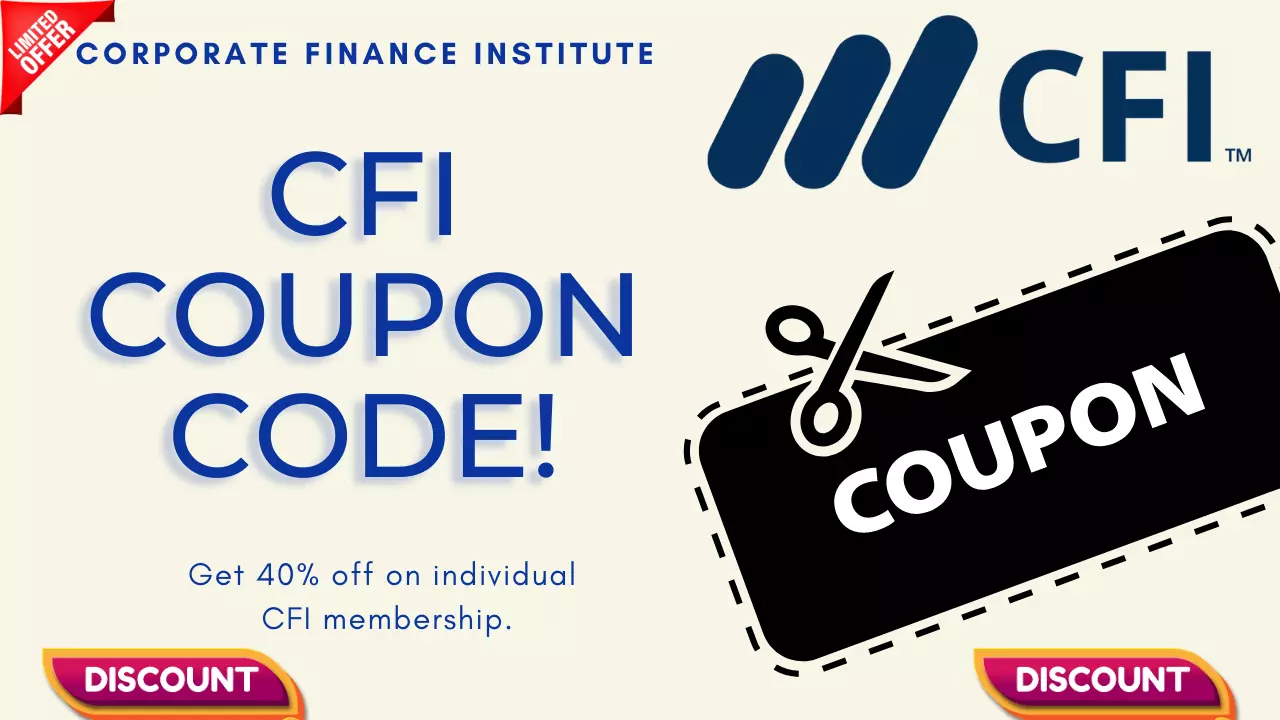 Do you think CFI certifications and courses are expensive? It's time to reconsider it.
Because we have a special CFI discount code for you, so don't worry.
If you are looking to buy any certification, specialization or course from Corporate Finance Institute (CFI), I'm sure you'll find this exclusive 40% off CFI coupon code very useful.
Table of Contents
CFI Exclusive 40% Discount
Use the special link below and apply the coupon at checkout to claim your 40% discount.
CFI Coupon Code for December 2023 (Active)
Get 40% discount on an individual CFI membership by applying the coupon code CFI10REFERRAL.
This CFI coupon code is valid only for a limited time, so use it before the sale ends.
A short summary of original CFI membership price and reduced prices are provided below.
| | | | | |
| --- | --- | --- | --- | --- |
| CFI Membership Plan | Actual Price | CFI Coupon | Discount | Discounted Price* |
| Self-Study | $497/year | CFI10REFERRAL | 40% | $298.20/year |
| Full-Immersion | $847/year | CFI10REFERRAL | 40% | $508.20/year |
*Please note that the discounted price doesn't include any tax which might be applied
How to Apply CFI Coupon Code?
Let us quickly see how you can use this CFI coupon code at checkout to claim your 40% discount on an individual CFI membership.
Step 1: Click Here to visit the CFI discount pricing page for individuals.
Step 2: Login to your CFI account.
Step 3: Choose a plan (Self-Study or Full-Immersion) that meets your requirements.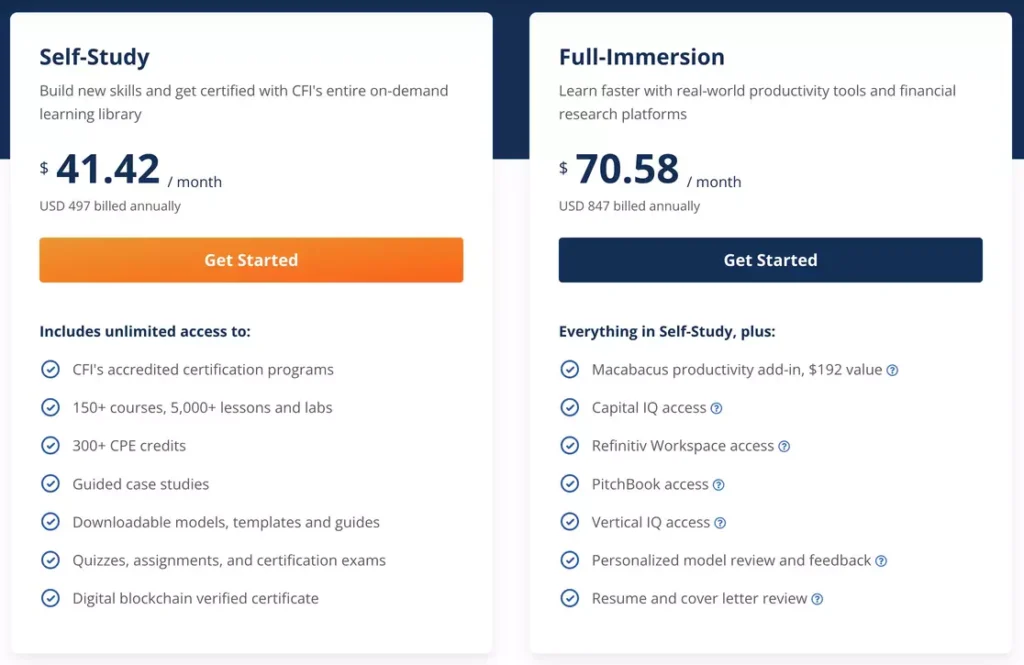 Step 4: Click on "Have a coupon?" and apply the coupon CFI10REFERRAL at checkout to get your 40% discount.
That's it. You would have got the maximum 40% discount after applying this CFI10REFERRAL CFI coupon code.
You can now proceed further to make your payment and purchase the CFI membership.
CFI Membership Benefits
Corporate Finance Institute (CFI) is a great place to learn about finance and its associated topics.
CFI offers courses and certifications in financial modeling, valuation, and other corporate finance topics. You can gain the knowledge and skills you need to help you succeed in your field.
With CFI membership, you can:
Become certified and role-ready in financial modelling, commercial banking, capital markets, business intelligence, financial planning, and other areas.
Access 150+ courses taught by industry leaders with decades of experience.
Get access to lots of searchable, on-demand tools, editable templates, and resources to amplify your work productivity and make you an all-star on the job.
Get unlimited access to all CFI certifications including FMVA, CBCA, CMSA, FPWM and BIDA(TM), professional specializations and courses.
CFI Plans & Pricing
As of now, CFI has two plans for individuals: Self-Study and Full-Immersion.
Both plans will give you unlimited access to:
CFI's accredited certification programs
150+ courses, 5,000+ lessons and labs
300+ CPE credits
Guided case studies
Downloadable models, templates and guides
Quizzes, assignments, and certification exams
Digital blockchain verified certificate
In addition, with the Full-Immersion plan you can get premium email support, 12 months of free access to Macabacus, 2 months of free trial access to Capital IQ, 3 months of discounted access to Refinitiv Workspace, 4 months of free access to PitchBook, 6 months of free access to Vertical IQ, and financial model related feedback from an expert.
You can also receive a comprehensive resume and cover letter feedback once per month with the Full-Immersion plan.
CFI Certifications
Currently, CFI offers five different certifications. They are:
Financial Modeling & Valuation Analyst (FMVA)®
Commercial Banking & Credit Analyst (CBCA)™
Capital Markets & Securities Analyst (CMSA)®
Business Intelligence & Data Analyst (BIDA)™
Financial Planning & Wealth Management Professional (FPWM)®
A industry measure of your expertise and knowledge is a CFI certification.
You'll get a digital blockchain certified certificate once you've finished the necessary prep, core, and elective courses and passed your exam.
CFI Free Courses
While the popular CFI certifications, specializations and courses can be accessed only with an active CFI membership, there are few courses which we can take for free.
Yes, Corporate Finance Institute (CFI) also offers 20+ free online courses through which you can learn the fundamentals of finance, accounting, data science, cryptocurrency and a lot more.
You can also earn a free certificate after completing the free courses offered by CFI.
FAQ's about CFI Discount
Does CFI provide refund?

No, CFI doesn't provide a refund for its subscription. However, European Union citizens alone can get full refund within 14 days.

What is the maximum CFI discount?

You can get a maximum discount up to 40% for CFI subscription.

Is CFI subscription worth it?

Yes. With high quality learning content and certifications that are well recognised in the industry, CFI subscription is worth it if you want to advance your finance knowledge.

Is there any 50% Off CFI discount code?

No. If you see someone providing a 50% discount code for CFI subscription, most probably it is a fake one. As I mentioned earlier, maximum discount is 40%.
Conclusion
CFI is undoubtedly one of the best learning platforms when it comes to finance.
So without wasting anymore time, go ahead and use the only active coupon code CFI10REFERRAL at checkout to save 40% on any individual all-access membership.
Happy Learning!