10 Best Yoga Courses on Udemy
Disclaimer: This post is NOT sponsored. Some product links are affiliate links which means if you buy through those links, you won't pay anything extra and we'll also receive a small commission on a purchase.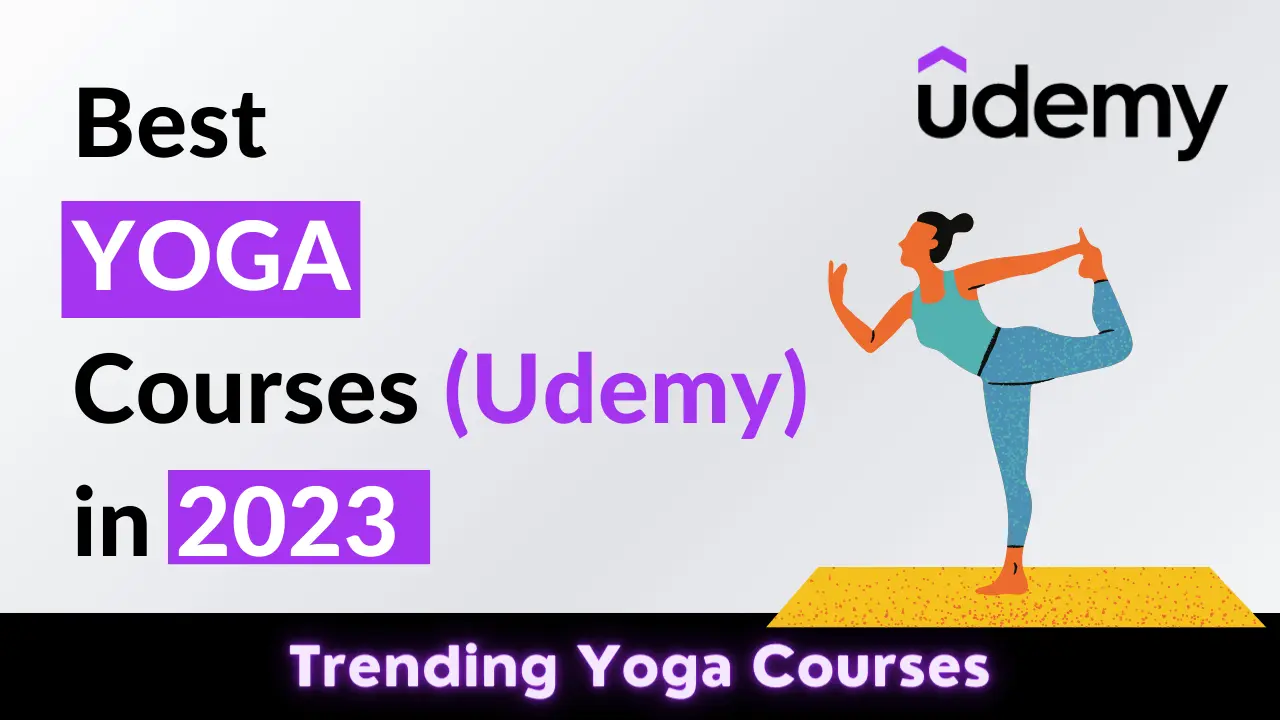 Hello folks, if you want to join a yoga course or you are already a yoga enthusiast and want to learn more, these are the best yoga courses on Udemy. You can join these courses from your comfort zone as it is completely online.
Yoga improves strength, flexibility, and balance. It brings physical and mental disciplines to achieve a peaceful body and mind as it manages stress and anxiety.  If you want to pursue yoga as a career, you can work in health clubs, yoga and pilates studios, special needs centers, private gyms, etc. In this article, I am going to share the 10 best yoga courses on Udemy. 
Best Yoga Courses on Udemy in 2023
In this course, you will learn flow yoga sequences, lubricating your joints, improving your cardiovascular health, increasing your agility, energizing your body, improving your mobility, improving your body composition, boost your mood the course contains 15 lectures with 14 downloadable resources.
The course will teach you how to enhance your focus and concentration, boost your metabolism, and build your stamina. Are you ready to upgrade your yoga skills? Join the course now. The course has a rating of 4.6 out of 5.
Do you want to go beyond the physical practice of yoga to learn about the chakras and methods that can help you heal emotionally?
The course is in-depth training in energetic and emotional healing with Seane Corn. You will learn to practice Vinyasa yoga flow that will strengthen the body, release tension, and establish a healing mind-body connection, unblock and balance the seven chakras for restoring wellness on an emotional and energetic level. You will develop a profound connection with your inner self.
Once you learn to harmonize breathing, movement, and awareness, you'll release stuck emotions by working with your edges. This will lead to both physical and emotional strength and well-being. The course has 30 lectures. What makes the course unique is its 5 out of 5 ratings. 
If you don't have any experience with yoga or you are an advanced yoga practitioner this course is for you, in the course, you will learn to use the breath as a tool to become a master of mind and body.
This is a Pranayama course to get a profound understanding of breathing and meditation, how to use the power of breath to clear your mind and sharpen your awareness, increase energy, health, and mental balance, and become aware of the deeper layers of the self.
You will learn the techniques such as meditation, yogic breathing, Kumbhakas, Bandhas, Bhastrika pranayama, Kapal Bhati pranayama, Nadi shodhana, pranava pranayama, kaki mudra pranayama, etc. The course has a rating of 4.8 out of 5. It has 78 articles in 10 sections. 
If you feel tired during the day, this is the perfect time to join the course. In this course, you will improve your flexibility, build core strength, alleviate aches, and pains and reduce your stress in 15 minutes a day.
In the course, you will learn the fundamental yoga poses, and sequences, to increase your range of motion, improve your flexibility, and the skills of conscious breathing, enhance your focus, and gain a greater sense of clarity. To build core and upper body strength, to alleviate pain in the lower back, neck, and shoulders.
The course is divided into 4 sections with 16 lectures. The course has a rating of 4.7 out of 5.
Are you excited to progress your yoga practice? Reduce morning stiffness, improve your flexibility, and alleviate recurring aches and pains in just 15 minutes.
You will learn to establish a better posture, reduce strain from daily activities that cause uneven wear and tear on your muscles and joints, acquire the essential knowledge to better your life through yoga, manage stress from work, family, and social responsibilities, enhance your athletic ability by optimizing your body's movement.
The course is a step by step guide for creating your perfect yoga environment. The course has 15 lectures and 16 downloadable resources. The course has a rating of 4.7 out of 5. 
For this course, you should have a yoga strap, a yoga block, a chair with no armrests, a tune-up ball, or a tennis ball. You will learn chair yoga poses to teach students or do yourself, learn simple sequences using a chair, ease stress and anxiety, safely improve strength and flexibility, and develop balance, focus, and stability, The course has a rating of 4.5 out of 5. And has 25 lectures.
Slow Flow – Level 1: You will stay seated on the chair for the entire practice and focus on opening up your neck, shoulders, and hips.
Balance & Stability – Level 2: Slightly faster-paced. You'll integrate some standing poses while using the chair for balance and stability. This is the perfect class for people who are working on slowly regaining their strength and mobility back.
Quick Energizer – All Levels: Designed to instantly give you a boost of energy through various simple poses including twists, side bends, and forward folds. It's the perfect class to do on your lunch break at work or any time you're feeling lethargic.
This course is for everybody. Seniors, persons with limited mobility or injuries, office workers, individuals with disabilities, weight issues, or inflexibility.
Are you facing a lack of motivation or anxiety? This course will surely help you, improve your ease of movement and range of motion through increased body awareness, and regain peace from overthinking, and regrets. Enhance your sleep quality, boost your energy, and equip yourself with the tools to relax your central nervous system, release muscular tension, trigger the relaxation response, and support the immune system.
The course is for everyone who is suffering from stress and looking for ways to relax. The course has 15 lectures and 15 downloadable resources. The course has a rating of 4.8 out of 5. 
In this course, you will learn the essential components you need to get the most out of your yoga practice, gain critical information, alignment tips, and pose modifications, and Learn to approach your practice in a way that soothes the nervous system & nourishes the hard-working internal organs.
Gain insight into the power of the mind both on & off your yoga mat and how to harness the power of your mind for increased mental clarity & efficiency. Learn how to develop a practice with a three-dimensional approach to address the physical body, the internal organs, and the mind.
The course has 28 lectures, with 1 downloadable resource. The course has a rating of 4.5 out of 5. 
Become a better lifter with yoga. Stretch and strengthen key muscles, improve posture, and get rid of aches and pains. In this course, you will learn to breathe deeply to reduce tension and tightness, improve alignment and posture to reduce the risk of injury, and improve flexibility and joint health. All you need to have is a yoga mat, a block, and a strap.
This yoga course will help you to firm, tone, and lengthen your muscles, you have to devote just 20 minutes in your day to do this. The course includes 8 classes, beginner and intermediate vinyasa flow classes, energizing morning and relaxing evening, yin yoga flexibility class, and post-workout practice. The course has 14 lectures, downloadable content, and 5 free bonuses. Also, the course has a rating of 4.8 out of 5. It is one of the highest-rated course.
In this course, you will learn how to bring the amazing health benefits of yoga into your own life, increase your flexibility and elasticity, decrease your headaches and reduce your low back pains, strengthen the deep muscles of the spine through stabilization exercise, and reduce neck pain.
You will require two dumbbells, a yoga block, a strap, a yoga mat, a chair, a blanket, and a foam roller. If you have to sit in one place for long hours due to office work, this yoga course will help you in multiple ways.
This course will also give you a free yoga stretching guide, and it primarily focuses on yoga for sore shoulders and neck, tight chest muscles and chest flexibility, weak back muscles, spinal flexibility, and tight legs. In today's world we have to spend many hours a day at a desk, in front of a computer screen, so, do yourself a favor and join the course ASAP! 
The course has a rating of 4.6 out of 5. The course has 62 lectures and 17 articles with 9 downloadable resources. 
If you like this list of 10 best yoga courses on Udemy, please share it with your friends and colleagues. All the above courses comes with a lifetime access, a certificate of completion, and accessible on all devices.