Udacity AWS AI ML Scholarship Program
Disclaimer: This post is NOT sponsored. Some product links are affiliate links which means if you buy through those links, you won't pay anything extra and we'll also receive a small commission on a purchase.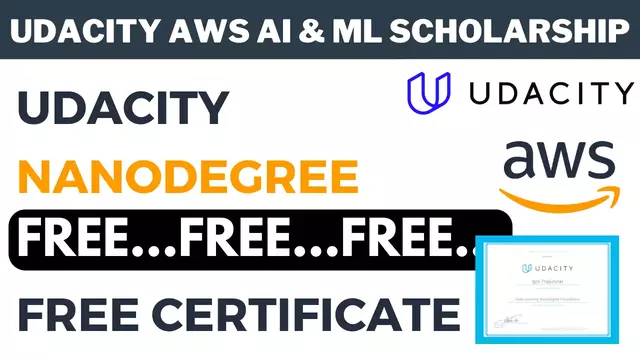 AWS has collaborated with Udacity, a top online learning platform, to launch AWS AI ML scholarship for students.
With this scholarship, you can get free access to the premium Nanodegree programs on Udacity and learn about various concepts of artificial intelligence (AI) and machine learning (ML) to prepare yourself for a career in this lucrative field.
This Udacity AWS AI ML scholarship is provided to 2000+ students each year. So it is possible for you to be among those people. Go ahead and give it a try.
AWS AI ML Scholarship Details
First let me explain how this AWS Scholarship program works.
Step 1: Create an account in AWS DeepRacer Student platform.
Once you're logged in, you'll get access to 20 hours of AI & ML learning content. Complete all the learning modules and pass the assessments.
You must achieve 80% or higher on all of the assessments in the AWS DeepRacer Student learning modules in order to qualify, and you must finish a time trial lap on any one leaderboard in under three minutes.
Step 2: Get access to AWS AI ML Scholarship application.
If you complete all the requirements successfully, an email with a special application code and instructions to complete the Udacity application will be sent to you.
Fill all the details and submit your application for the AWS scholarship program.
And wait for the results to go in your way!
Step 3: Get access to a Udacity Nanodegree (if selected).
If selected, you will receive 100% scholarship for the AI Programming with Python Nanodegree program on Udacity.
Start learning about AI & ML for free with this program. You can also attend virtual mentoring events with the experts at AWS and Udacity.
Step 4: BONUS Udacity Nanodegree Program (if selected).
All the students who complete the AI Programming with Python Nanodegree program successfully will take an online assessment.
Top 500 students with the highest scores will have an opportunity to earn scholarship for another Udacity Nanodegree program to learn more advanced AI & ML concepts.
So, this AWS AI ML Scholarship in collaboration with Udacity gives you an opportunity to take not one but two Nanodegree programs for free. Awesome, right?
Scholarship Eligibility
Anyone over 16 years old studying in a high school or college who self-identifies as underprivileged or underrepresented in technology is eligible to apply for this AWS scholarship program.
Important Dates
June 1, 2023: Scholarship prerequisites open on AWS DeepRacer Student. Complete to unlock your unique code and finish your application.
September 30, 2023: Last day to complete prerequisites on the AWS DeepRacer Student website to earn scholarship application access on Udacity.
October 9, 2023: AWS AI & ML Scholarship winners will be notified.
October 16, 2023: Scholarship Nanodegree program, AI Programming with Python begins.
How to Apply for the AWS Scholarship?
Click on the "Register Now" button given below and go to Udacity.
And then click on "Get Started" to visit the official AWS AI & ML Scholarship program page on AWS website.
Click on "Start your application" to visit the AWS DeepRacer Student website. Create your AWS player account and start learning.