Microsoft AI Skills Challenge [Free Certificate]
Disclaimer: This post is NOT sponsored. Some product links are affiliate links which means if you buy through those links, you won't pay anything extra and we'll also receive a small commission on a purchase.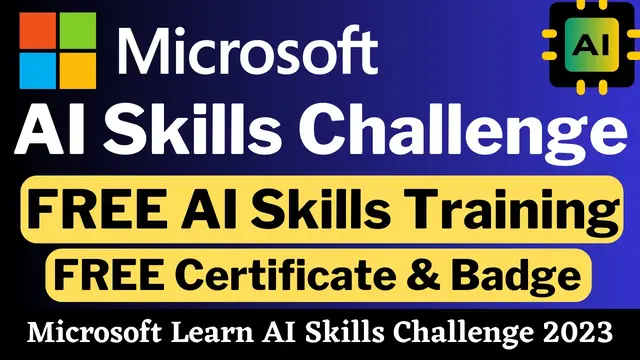 Microsoft AI Skills Challenge is a great opportunity for all of us to get high quality content to learn about artificial intelligence and its application in Microsoft products.
There are four interesting AI-themed challenges in this program. You'll discover new experiences suited to your learning preferences and goals as you go through the challenges.
You can get a badge and completion certificate from Microsoft by finishing at least one of the challenges before the program end date.
If you want Microsoft certifications for free, check this Cloud Skills Challenge.
Table of Contents
Important Details about the Challenge
Starts on: July 17, 2023 at 4:00 PM (16:00) UTC
Ends on: August 14, 2023, at 4:00 PM (16:00) UTC
You must have attained legal age in your country to participate in Microsoft AI Skills Challenge. If not, you'll be required to provide consent from your parent or guardian.
Create your account on Microsoft Learn before taking the challenges, if you don't have one already.
No matter how many challenges you accomplish, you will still get the same badge and certificate.
Microsoft Learn will get in touch with you and send you your badge after the Microsoft Learn AI Skills Challenge ends.
4 Microsoft AI Skills Challenges
1. Machine Learning Challenge
In this ML challenge, you'll learn how to construct and publish models with Azure Machine Learning without writing any code. You'll also get insight into the different developer tools available to you for interacting with the workspace.
2. Machine Learning Operations (MLOps) Challenge
By taking this MLOps challenge, you'll learn to apply concepts like source control, automation, and CI/CD while using Python to create an entire MLOps solution and train, store, and use a machine learning model.
3. Cognitive Services Challenge
Azure Cognitive Services are AI powered building pieces that may be integrated into applications. You'll learn about provisioning, securing, and deploying cognitive services in this challenge.
4. AI Builder Challenge
You learn about AI Builder and how to create models in this challenge, as well as how to apply them in Power Apps and Power Automate.
How to Register for the Challenge?
Step 1: Click Here to visit the official page of Microsoft Learn AI Skills Challenge.
Step 2: Choose the challenge that you want from the given options and click on the "Go to challenge" button. You'll be directed to that particular program page.
Step 3: Click on "Sign in" at the right top and log in to your Microsoft Learn account.
Step 4: Once you're logged in, click on the "Register now" button in the challenge page and complete the registration process.
Step 5: You are now all set to take the chosen challenge. Complete the challenge and earn your badge and certificate from Microsoft.
FAQ's
Can I take more than one challenge?

Yes, you can participate and complete as many challenges as you want in this AI Skills challenge.

Do I need a Microsoft Learn account?

Yes, you should create your Microsoft Learn account to participate in this program.

Is this AI Skills Challenge free?

Yes, Microsoft AI Skills Challenge is completely free to join and you can also earn a free certificate after completing the challenge successfully.
Final Words
These challenges are basically learning programs which will cover a wide range of topics about artificial intelligence. If you're interested in honing your AI skills around Microsoft products, then this challenge will be definitely helpful for you.