Maruti Suzuki XCELerate: Cash Rewards & Prizes for Winner
Disclaimer: This post is NOT sponsored. Some product links are affiliate links which means if you buy through those links, you won't pay anything extra and we'll also receive a small commission on a purchase.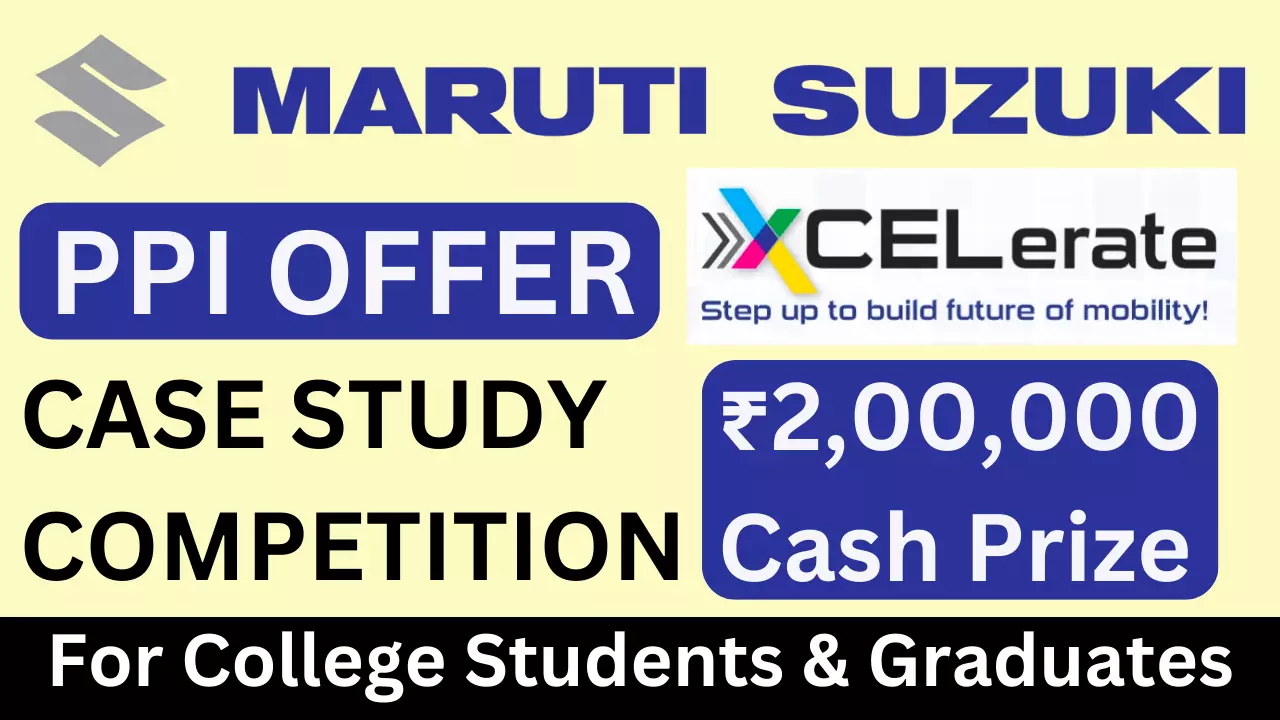 Maruti Suzuki Xcelerate is the first edition of a case study competition for next-generation visionary thinkers who can foresee the future of mobility and seek to make a name for themselves with their innovative concepts.
Xcelerate embodies the ethos of stepping up to create the mobility of the future by being bold with ideas and pushing limits. It establishes the groundwork for a route that aims to strike a balance between the tenets of mobility and potential future expansion.
Table of Contents
Eligibility Criteria
Engineering Colleges: B.Tech and Integrated Dual Degree students of all years from all Engineering Colleges are eligible to participate.
B-Schools: First and Second-year students pursuing full-time MBA/PGDM program are eligible to apply.
Team Formulation Guidelines for Maruti Suzuki XCELerate
Interested students must register in a team of 2-3 members
All members of a team should be from the same institute
Cross specialization teams can participate
Cross-year teams are not allowed to participate
All the team members need to provide their consent in order to participate in the competition
A student cannot be a part of more than one team
Only B-School and Engineering students can participate in Maruti Suzuki EXCELerate
There is no restriction on the number of teams from an institute
Once the registration closes, the teams won't be able to change their team members
Maruti Suzuki XCELerate Rounds & Timelines
Maruti Suzuki XCELerate competition for business school and engineering college students has 4 rounds. It will be conducted as two different tracks, one for business track (B-Track) and the other for engineering track (E-Track).
Round 1: Online Quiz
Start Date: 27 Feb 23, 12:00 PM IST
End Date: 27 Feb 23, 06:00 PM IST
Teams that have registered must complete a 30-question online quiz round. The quiz must be taken by each team member separately.
Participants will be assessed based on questions on Critical Reasoning, Logical Ability, and Analytics.
Participation certificates will be provided to everyone who attempts the quiz.
Round 2: Executive Summary Submission
Start Date: 01 Mar 23, 06:00 PM IST
End Date: 12 Mar 23, 11:59 PM IST
All shortlisted teams from both tracks (B-Track & E-Track) will be informed about the challenge statements in due time.
Teams need to submit their pitch in a 2-slider PPT along with a 2-minute video in MP4 format.
Round 3: Detailed Presentation Submission and Virtual Presentation Rounds
Start Date: 17 Mar 23, 06:00 PM IST
End Date: 26 Mar 23, 11:59 PM IST
Teams from both tracks that have been selected for Round 3 must submit their thorough presentations.
Teams will get the chance to virtually showcase their concepts to Maruti Suzuki's Senior Management. Each team will get 10 minutes to present and 5 minutes for Q&A (a total of 15 minutes).
Round 4: Grand Finale
Date: To be announced.
All finalists will get a chance to present their solutions to the jury panel of Maruti Suzuki and will compete for the Winner's Title of Maruti Suzuki XCELerate.
Rewards and Prizes
B-Track:

Winner: INR 2,00,000
First Runner Up: INR 1,00,000
Second Runner Up: INR 75,000

E-Track:

Winner: INR 1,50,000
First Runner Up: INR 1,00,000
Second Runner Up: INR 75,000

Pre-Placement Interview opportunities will be provided to the Top 3 teams of both the tracks.
This Maruti Suzuki Xcelerate competition is a great opportunity for students interested in automobile field to showcase their innovative ideas and get into the real corporate world.