Highest Salary Jobs for Commerce Students
Disclaimer: This post is NOT sponsored. Some product links are affiliate links which means if you buy through those links, you won't pay anything extra and we'll also receive a small commission on a purchase.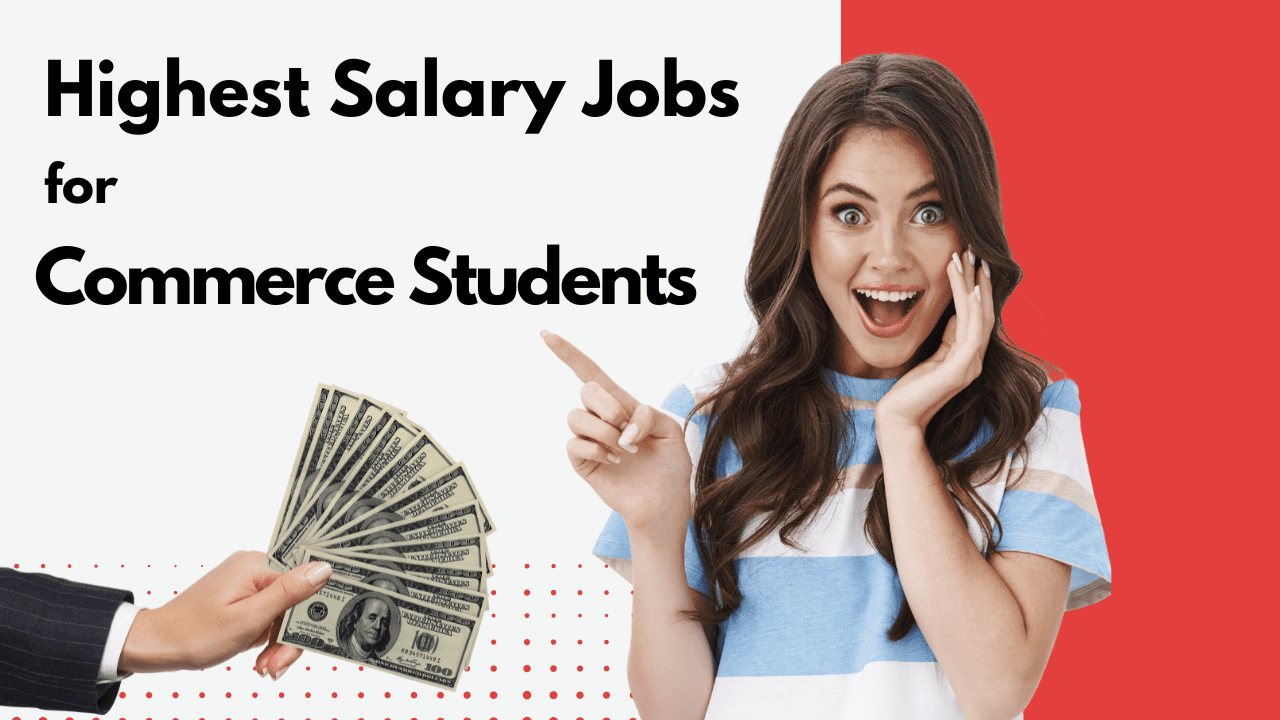 Every student's dream is to get a good pay package at their desired university. Getting one of the market's highest-paying positions is the greatest approach to make that a possibility.
The most frequent field of study in India is commerce. Students choose this pathway for a variety of reasons, but one of the most important is that trade provides a good foundation for higher education and offers access to a variety of high-paying careers.
As a commerce student, you want to pursue a professionally and socially rewarding career path that also includes a well-paying job that allows you to live comfortably. 
Following is a list of some of the highest salary paying jobs for students pursuing Commerce. 
9 Highest Salary Jobs for Commerce Students
Average Salary Range: Rs. 3-5 Lakhs per annum
A research analyst is a professional who is responsible for researching securities or assets – either for internal or external clients.
The research analyst's job is to investigate, evaluate, find, or revise data, principles, and hypotheses for internal or external use by a financial institution or a financial client.
Average Salary Range: Rs. 4 Lakhs per annum
Cost accounting deals with a variety of costs such as variable, fixed, and opportunity costs, among others. Manufacturing sectors and enterprises mostly employ cost accounting to determine a company's total cost.
Cost accountants are highly responsible for gathering, evaluating, and sharing data to increase financial transparency and processes efficiently.
They are in charge of setting off the month-end closure and reporting operations, as well as establishing standard costs for corporate processes like labor, shipping, production, and administration.
Average Salary Range: Rs. 6-7 Lakhs per annum
A marketing manager is in charge of a company or its products/services marketing. They can be in charge of a particular product or be in charge of multiple services or goods.
Vibrant and dynamic personalities are required for marketing managers.
Along with these qualities, they must be laser-focused, meticulous, and conscientious about sticking to budgets and deadlines.
4. Human Resource Manager
Average Salary Range: Rs. 7-15 Lakhs per annum
Human resource managers are solely responsible for the department of human resources. They are frequently seen as the link between a company's management and its workforce.
The major responsibilities of human resource managers are to ensure that human resource plans and initiatives are properly administered, coordinated, and evaluated.
There are many job openings available for a human resource manager every year.
5. Chartered Accountant (CA)
Average Starting Salary: Rs. 6-7 Lakhs per annum
A chartered accountant is a professional who is in charge of a company's taxation and accounting. Tax returns, financial accounting, and reporting, audit financial documents, producing and reviewing financial reports, and preserving investment records are among the responsibilities. One of the best job opportunities for commerce students in the United States is chartered accounting.
Average Salary: Rs. 9-10 Lakhs per annum
An investment banker is a professional who works for a financial institution and is primarily responsible for raising funds for businesses and other organizations.
Because it pays well, this field is highly popular. There is, however, a drawback to this. The hours you must work are lengthy and exhausting. 
Investment bankers must have great verbal and written communication skills as well as excellent number-crunching ability.
Average Salary: Rs. 10-14 lakhs per annum
An actuary is a professional who calculates and analyses the financial implications of risks and unforeseeable events. To estimate the risks involved with the insurance industry, these professionals have combined a significant understanding of mathematics, statistics, and economics with substantial research. Actuaries are frequently employed by enterprises that must manage financial risks, such as hospitals and banks. It is one of the highest-paying positions in the United States and the world.
8. Chartered Financial Analyst (CFA)
Average Salary: Rs. 12 Lakhs per annum
A chartered financial analyst (CFA) is a professional designation that is recognized all over the world. Financial analysts' expertise and integrity are measured and certified by the CFA.
Individuals who want to further pursue their professions in finance should consider becoming chartered financial analysts.  A variety of certifications are available to finance professionals, but CFA certification is one of the most cost-effective.
9. Chief Executive Officer (CEO)
Average Salary: Rs. 24 Lakhs per annum
A company's highest-ranking executive position is that of a chief executive officer (CEO).
Making important business decisions, managing a company's overall operations and resources, acting as the primary point of communication between the board of directors and corporate operations, and serving as the company's public face is among their primary tasks.
Choosing a career that satisfies you and provides you with a comfortable lifestyle is a crucial decision, but it can be tough to make.
The aforementioned jobs not only pay well, but they also earn you the respect of those around you.
Now, while money is vital, you should not choose a job just based on it. You should think about everything, especially your abilities and capabilities.
Believe in yourself and your ability to make the best decision possible!
Disclaimer: This blog is NOT sponsored. Some product links are affiliate links which means if you buy through those links, you won't pay anything extra and I'll also receive a small commission on a purchase.