Coding Ninjas Scholarship Test – Get Exclusive Discounts
Disclaimer: This post is NOT sponsored. Some product links are affiliate links which means if you buy through those links, you won't pay anything extra and we'll also receive a small commission on a purchase.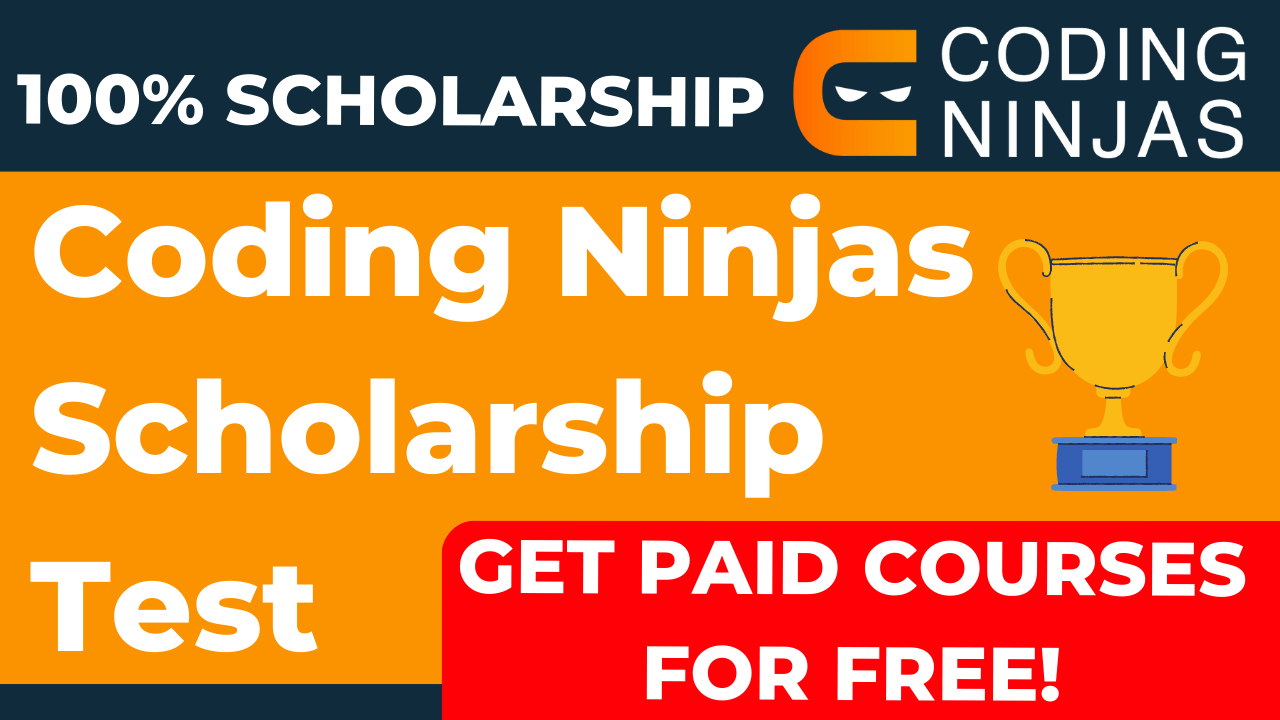 Coding Ninjas is conducting a scholarship test which gives you an opportunity to get the premium coding ninjas online courses for free of cost (100% scholarship).
And the best part is, you can get 10% minimum assured scholarship if you participate in the Coding Ninjas Scholarship Test.
You can participate and get upto 100% Scholarship on any course by Coding Ninjas. The 17+ programming courses taught by Coding Ninjas include Machine Learning, Data Science, Web Development, Android, and more.
Table of Contents
Coding Ninjas Scholarship Test Details
The scholarship test will be conducted in two slots. You can participate in any one of the slots for this contest.
Slot 1: 11 July, 2023 05:00 PM IST
Slot 2: 12 July, 2023 05:00 PM IST
Test Duration: 30 minutes
Total Score: 200
Total problems: 15 (Aptitude Based MCQs)
Test Syllabus
The Coding Ninjas Scholarship Test is used to gauge a candidate's aptitude for problem-solving and how quickly they can react to a given circumstance. The scholarship test often evaluates the following areas:
Quantitative Aptitude: The majority of high school-level and some more advanced topics are addressed in the multiple-choice questions (MCQ) in this section. Number systems, averages, ratios and proportions, percentages, time and distance, probability, geometry, and algebra are some of the areas from which questions might be derived.
Analytical and Logical Reasoning: The purpose of this segment is to gauge the candidate's aptitude for reasoning and analysis. Typically, questions on coding-decoding, series, puzzles, cause and effect, direction, and ranking are asked.
Data Interpretation and Data Sufficiency: Data is displayed as a table chart, bar graph, line graph, etc. under the section on data interpretation and sufficiency. You must go through the questions and understand the facts to find the answer.
Scholarship Brackets
Top 10 – 100% Scholarship
Top 10% – 50% Scholarship
Top 10-20% – 45% Scholarship
Top 20-35% – 40% Scholarship
Top 35-50% – 35% Scholarship
Top 50-60% – 30% Scholarship
Top 60-70% – 25% Scholarship
Top 70-80% – 20% Scholraship
Bottom 20% – 10% Scholarship
Eligible Courses
The Scholarship will be valid on batches that begins from 13th March'23 and all March '23 on the following Coding Ninjas courses:
Data Structures & Algorithms – C++
Data Structures & Algorithms – Java
Data Structures & Algorithms – Python
Web Development – Full-stack MERN
Web Development – Full-stack Node.js
Web Development – React.js
Competitive Programming
Data Science & Machine Learning
Machine Learning
Aptitude Preparation
Product-Based Companies Course
Service-Based Companies Course
Job Switch Program
Operating System
DBMS
System Design
Data Analytics Course
Additional Benefits
(Applicable only on course purchase) Participate in the Scholarship Test to get:
Training Certificates
Coding Ninjas Swags
Terms & Conditions
The Scholarship test is free.
The Scholarship is non-adjustable/transferrable and will be applicable on the batches that begin from July'23 listed on the website currently.
The results will be announced instantly after giving the test.
Use of unfair means during the test would result in disqualification.
Coding Ninjas holds all the rights of decisions to provide scholarship according to the performance of participants.
You will be immediately able to register for the course as the scholarship percentage would be applied to your account (The same account you will register for the scholarship).