9 Best Psychology Courses on Udemy
Disclaimer: This post is NOT sponsored. Some product links are affiliate links which means if you buy through those links, you won't pay anything extra and we'll also receive a small commission on a purchase.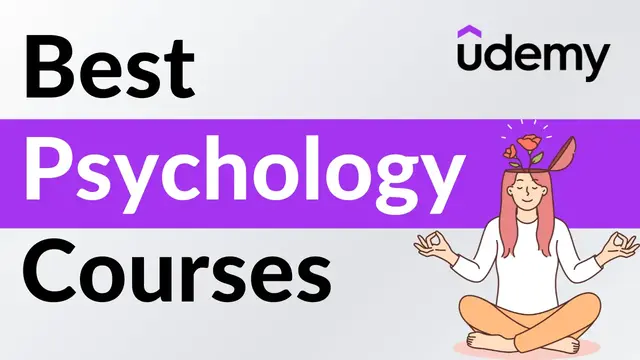 Psychology as a human science has over the decades come to occupy a central position in academia. Moreover, it has an interdisciplinary outreach that makes the knowledge of fundamentals essential in various walks of life and professions.
Thus the idea is that since you are dealing with human subjects you must have a significant command over their latent moods and motivations. Then only can you attain success in your endeavours. Therefore, all of the below mentioned best psychology courses on Udemy are ever ready to serve professionals all over.
Top 9 Best Psychology Courses on Udemy
In the year 1879, Wilhelm Wundt had started the first ever experimental psychology lab. With pioneering stones laid as early as the 19th century, Applied Psychology is that branch of human science which enables individuals to get a grasp of what people in their surrounding feel, experience and communicate. Thus Applied Psychology is nothing more but the everyday application of psychology in making our survival and existence worthwhile which however people practise unconsciously.
This diploma course taught by Kain Ramsay is exactly the one stop solution for identifying motivating factors influencing human behaviour, improving your capability to reason and make well-informed judgements and decisions about life.
This course is well spaced out across 8 sections covering 180 lectures which can be accessed on mobile and TV. In the initial sections the stage is set with lessons on fundamentals of applied psychology. The sole reason why we recommend this course to learners eager to build a solid foundation in Psychology is that it circumscribes all the major schools of thought dictating the discipline. They being Skinner's behavioural school, Freud's psychoanalytical school, Piaget's developmental school, Fromm's humanistic school.
What makes this course stand out among many others is the fact that it is interdisciplinary in nature with a section dedicated to the social-psychological thought and impact. The course plan is extremely student friendly with each module having a set of practice questions and at the end of all the modules a section is being devoted to the course summary. Thus we recommend this holistic course to all invigorated learners.
Who had said that psychology was only relegated within the chamber of a counsellor? It is something way more nuanced with long term implications in the economy. The science of influence is one of the most essential parts of the labour economy.
For instance, when you can persuade your customer to buy your products that is certainly beneficial on your part. The art of persuasion becomes more difficult when we approach complete strangers. But this 9 section course covering 26 lectures teaches SEVEN well researched and tested strategies for persuasion.
The strategies range from using relational scripts to overcoming resistance. Course instructor and renowned social psychologist Andrew Luttrell will teach you to ace the art of persuasion, connecting business with emotions and humanity and, over and above all, getting people to say 'YES' more often than not. After the completion of this Udemy launched course not only will learners triumph over the art of persuasion but the certificate of completion will be the cherry on the cake and enrich the resume.
For how long did you dream about those action packed Hollywood forensic thrillers and imagined yourself as one of the courageous and dashing forensic officers unfolding layers of the case?
Do not worry. Your dream is just a few steps ahead with this Udemy course. Motivational psychologist Elmira Strange has designed this course with 8 sections inclusive of 21 lectures. The introductory module covers the history of development of forensic psychology. Two of the most interesting modules are – research methods in forensic and forensic psychology in police investigation. While the former delivers lessons on how forensic science operates within the laboratories, the latter deals with the concept of offender profiling.
One of the most pivotal elements embedded in this course is the ability to understand the link between personality disorders and criminal offence. At the end of this course along with a certificate of completion you can kick start a lucrative career in forensic or criminal settings.
Childhood is one of the most significant formative stages of human development with an interplay of emotions and psychological underpinnings. Therefore, in order to capture the intricacies of  a child's cognitive development this course is essential.
Jean Piaget, the founding father who conceptualised the various stages of child development, brought together multiple nuances of age specific development under one roof in this theory. The course content developed by Elmira Strange spans across 5 sections with 22 lectures. The lessons start with child development as early as one year where the importance of bonding is central and ends with a fully-grown, functional teenager with adequate cognitive and linguistic skill development.
Therefore, this course is not only for eager learners but for educators dealing with young ones in play schools, creches, in junior classes etc.
Behavioural psychology functions through the art of persuasion. This course will enable the learners to use behavioural science to its full potential for persuasion. It is not merely about making up things like the motivational guru kind of but based upon practical strategies drawn from rigorous research.
This 10 section, 56 lecture course content created by social psychologist Andrew Luttrell begins with an introduction to persuasion science. Persuasion, one of the most studied topics in social psychology extends its insights to business, communication, personal development etc. The following sections discuss the qualities of a persuasive persuader which includes credibility, likability and confidence.
Most important of all is that this course undertakes an extremely sensitive and concerned outlook towards an anxiety laden generation that desperately craves for attention especially in a world of insecurities and tension. The section on how to get people to pay attention exactly encompasses this with ways to increase motivation and how to strategically speak to people.
For the longest time period in history humans have been beguiled about the 'mind'. The mind and brain continuum has always instigated hoards of questions about the operational ties. This Andrew Luttrell instructed course provides a lifetime access to all the materials.
The course spread over 4 sections with 34 lectures expands to cover 15 enchanting experiments as the title suggests. It ranges from behavioural priming, embodied cognition, misattribution of arousal and many more alike.
Recently, the course instructor has also added 3 new bonus videos which are definitely a way more simple and engaging method to absorb yourself in psychology instead of flinging through dense textbooks. I would suggest that all those who are awaiting an initiation into the discipline should certainly consider taking this course.
The bunch of thirsty learners would definitely not want to stop with merely knowing the basics of the discipline as captured in the previous course. This Udemy launched course will ensure your upliftment to the next level.
The course instructed by Elmira Strange will entail lessons on what is perception, why do we conform to other people, how do we treat abnormal behaviour generated due to psychological factors.
This 6 section, 30 lectures course curriculum includes a quick recap of the basics in the first module followed by social and cognitive psychology alongside its implications. What definitely makes this course an advanced learning treat is the section on research methods which will enable learners to locate the practices in the 'everyday'.
In the 21st century no matter if you get hold of your passport or have your basic necessities delivered at your footsteps on time, you will definitely be overwhelmed by occupational, lifestyle and other kinds of stress and anxiety.
This Elmira Strange designed course is a one stop gateway for anxiety management. The psychology of stress is the branch of study that Elmira Strange focuses her attention upon. The course unfolds with a distinguishing between 'good' and 'bad' stress and exactly at what stage does burnout manifests.
The next sections and modules among this 8 section, 31 lecture course come up with stress management techniques and its correlation with nutrition and physical well-being. Not only does this course deal with practical experiences and coping up with stress and anxiety but it also has a module dedicated to types of anxiety disorders such as GAD, social phobia, panic disorders etc. This theoretical underpinning of the course is complementary with its on-field, first hand experiences.
Frequently we humans try to search for rationales behind people's behaviour. Ranging from someone who might have misbehaved with you to someone who might have been relentlessly ignoring your calls or texts – you simply try to seek a reason. So then this one course has been designed for you and your unanswered questions by Paul Cline and Sandor Kiss.
The brief 2 section and 25 lecture curriculum begins by introducing you to the fundamentals behind what drives people's every action, discovering the pains and pleasures that rule your life and conceptualising how the 'imprint period' literally programmes you and your every move. Therefore, this course is worth it when  it comes to unearthing the deep lying motivations of human action.
Why Udemy Psychology Courses?
Udemy is an online learning platform that offers more than 1 lakh courses to a community of global learners. It started its journey from 2007 and over the years has evolved into a lucrative rostrum whereby millions of learners attain certified courses in a jiffy, simply at the click of a mouse.
Thus being at your own ease with flexible timings, Udemy offers a diverse range of psychology courses taught by experts, allowing you to choose topics that align with your interests and goals. If you are awaiting to augment your LinkedIn profile with Udemy certified courses then do have a look at the 10 best psychology courses on Udemy that are listed above.
Final Words
So don't shy away dear readers. We all have our deep-seated insecurities and helplessness. It is high time we start confronting them through the help of few of the aforementioned courses. More than anything else, aren't you willing to enrich your resume to entice employers?
And if you want psychology courses from top universities, check this list.