12 Best Photography Courses on Udemy
Disclaimer: This post is NOT sponsored. Some product links are affiliate links which means if you buy through those links, you won't pay anything extra and we'll also receive a small commission on a purchase.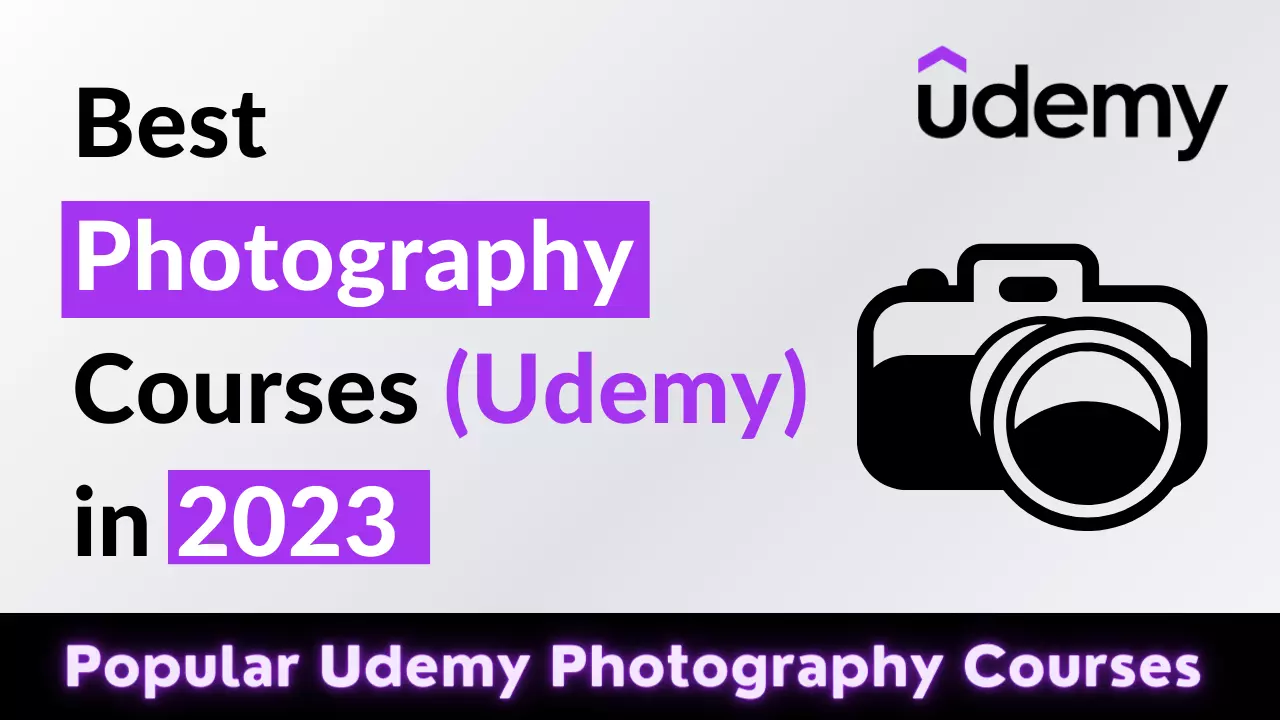 Hello readers! if you are a passionate photographer in your group or want to pursue a career in photography, this article is for you.
Today I am going to share the best photography courses on Udemy which will teach you everything about photography. 
Best Photography Courses on Udemy [2023]
The course is a bestseller, and it is the best online photography course on how to take amazing photos for beginners and advanced photographers. The course contains 65 articles and 41 downloadable resources, and the best part is full lifetime access.
You will get to know how to photograph in different scenarios like family portraits, landscapes, aerial, products, and wildlife, how to light your subjects with flash and natural lighting, how to make money through photography, editing photos like a pro, how to take better photos using manual settings, and most important how to take excellent clicks with your smartphone.
The styles of photography you will learn in this course are portrait, long exposure, landscape, product, low light, street, sports and action, wildlife, architecture, night, DSLR, mirrorless, event and wedding, and smartphone photography.
The course is an in-depth course that will teach you every single detail about photography. From beginners to skilled photographers this course is for everyone. No need for any fancy camera, just join the course! The course has 370 lectures in 41 sections. The course has a rating of 4.7 out of 5.
This course has a requirement that you should own a Nikon DSLR. this class applies to all Nikon cameras that have a model number that starts with ''D''. Through this course you will enter the DSLR photography world!
You will learn how to see your images in a more sophisticated way just like a professional photographer, how to adjust your aperture, how to add exposure, adjust your shutter speed, and the difference between the depth of field blur and motion blur.
The course will give you a certificate of completion and has access to TV and mobile. In this course, you will learn all those buttons and dials work on your Nikon DSLR. The course has a rating of 4.7 out of 5, with 7 lectures and 1 downloadable resource.
Are you excited to learn photography? Then, this program will do wonders. Any type of camera will be suitable for this course.
This course focuses on demonstrating easy ways of taking amazing outdoor portraits, providing tips on getting better flash photos indoors, and showing some excellent ways of getting better landscape photos, the course gives a 30-day money-back guarantee if you are not satisfied, which makes it stand out from others.
The course contains a set of over 50 video tutorials of photography tips and tricks. The program will teach you how to take better photos in the snow, to get blue skies in your photos instead of white skies, control the depth of field and the block of focus, how to take photos of fireworks, take sharper images, digital cameras, and their settings.
The course is for beginner and intermediate-level photographers. The course has 53 lectures divided into 11 sections and 4 downloadable resources. The course has a rating of 4.7 out of 5.
Have you recently bought a DSLR but don't know about photography? You can just make use of this photography course on Udemy.
This program will provide you with basic and advanced concepts of photography, and you will become a pro in night photography, photo/ image editing, and HDR photography, understanding ISO and shutter speed. In mastering photo editing you will learn about Adobe Lightroom, working with white balance, digging with color corrections, lens correction, sunglass reflection, working with sharpening and matte, HDR with photoshop, vintage effects, and high key effects.
This course is a 2-in-1 package as it will teach you photography as well as photo editing. The course has a rating of 4.6 out of 5 and contains 37 lectures.
Are you a photographer and wanted to learn advanced photography? Then what are you waiting for? Enroll for the course. Know how to use a flashgun for indoor photography at night, how to capture lovely portraits and photograph waterfalls.
Anyone who is confused about the camera settings on their camera and wants to improve their photography or polish their photography skills then the course is for you. The course contains 12 sections and 29 lectures. The course has a rating of 4.5 out of 5 and 7 articles.
Do you want to impress people with your photography skills? You are at the right place.
This is a master course in photography, All the basic and advanced techniques are covered in it. It will give all the knowledge about lenses, exposure settings, hard and soft light, camera settings, etc. How your camera's tonal range limitation can affect what you want to create, how to overcome it, the difference between dynamic and tonal range and how that affects your exposure, and why you should consider the crop factor before buying a lens.
You will understand the four characteristics of light and how they can affect the quality of images. The course covers 10 composition rules that will improve images instantly and also covers photo editing. The course is for new and semi-experienced photographers. The course has a rating of 4.7 out of 5. 18 articles and 16 downloadable resources.
The course is a package of Study, learn and master. Study 100 great photographs explore what makes them successful, learn tools and rules to elevate your photos, and master photography. No prior knowledge of photography is required.
The course will teach you timing and moment, light and shadow, color, composition, and specific fields of photography like street, food, nature, macro, and portraiture, course is divided into 9 sections with 13 lectures. Grab the course and become a master! The best part is the course has a rating of 4.8 out of 5, and 2 downloadable resources.
Spotting great lighting is a skill, become a photographer who knows how to find great light. This course is a step-by-step guide to your photography journey. What makes the course unique is there are 63 downloadable resources. The course focuses on natural lighting, without any flashes, strobes, or reflectors. Three types of artistic light, how to use architecture to find light in any city in the world. The course has a rating of 4.7 out of 5 and 8 lectures.
The course will take you to the mysterious secrets of photography, you will learn some mysterious rules. The course contains 21 lectures. You will build a solid foundation to take great photographs, setting the shutter speed for the subject matter, explaining how the aperture affects the depth of the field, choose an ISO setting based on the lighting conditions. The course has a rating of 4.6 out of 5 and 2 downloadable resources.
If you have a Canon EOS 2000D / EOS 1500D / Rebel T7 camera, the course is for you. The course offers 17 exclusive videos about the modes, tabs, autofocus, filters, and flash, exploring the shooting modes, and effects and contains 19 lectures and 16 downloadable resources. Make photography your career. Enroll now! The course has a rating of 4.8 out of 5.
What made you come here? You are reading this article which is enough to know us about your photography passion. Don't waste more time, join the course and become a professional photographer. You will learn techniques like manual exposure settings, semi-auto exposure, creative use of focal length, autofocus mode, white balance, qualities of light, how to take sharp images every time, still life photography, and abstract photography. The best part is the course has 98 lectures with 13 downloadable resources. The course has a rating of 4.8 out of 5.
If you want to convert your photography hobby into a career, this course will surely help you. The course has 43 lectures of what is metering, art, photography, studio lights, camera menu, outdoor live model shoot, which camera to buy, and which lens to buy,  All courses provide certificates of completion. The best part is the course has a rating of 4.9 out of 5. 
Final Words
Thanks for reading the article. If you like this list of best photography courses on Udemy, please share them with your friends and colleagues. We will be happy if we have given a kick start to your career by providing this information. Please drop a note if you want to know any other information.