Best Event Management Courses with Certificates
Disclaimer: This post is NOT sponsored. Some product links are affiliate links which means if you buy through those links, you won't pay anything extra and we'll also receive a small commission on a purchase.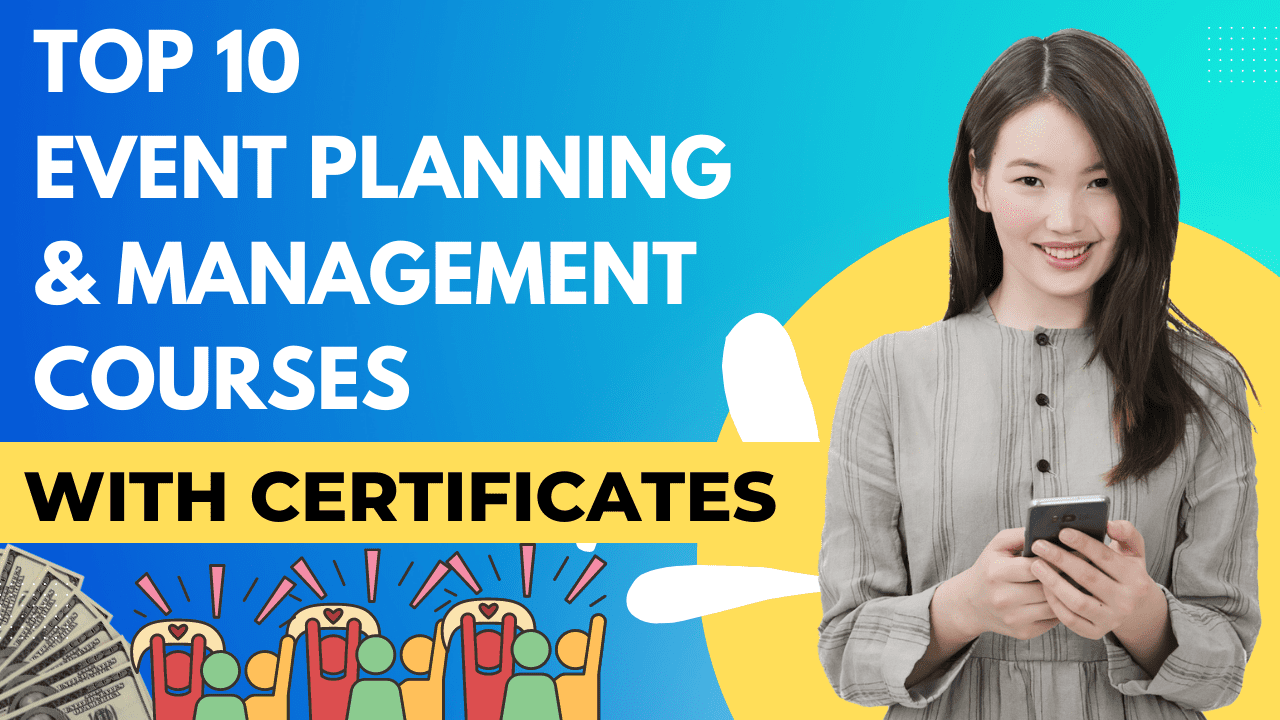 Are you thinking that event planning would be the ideal career choice for you but aren't sure where to start? Are you looking for an online event planning and management course to learn the basics?
Let us assist you with that. An event planning course can help you learn industry best practises and will make you stand out in a crowded field. Whether you want to pursue event planning as a passion or as a job, event planning courses can educate you how to be successful.
We've compiled a list of the top 10 event planning and management courses for beginners in this article.
10 Best Event Management Courses
Most individuals believe that event planning is simple, and as a result, they run over budget or fail to meet customer or guest expectations.
This training will set you up for success and ensure that you sound like you know what you're doing, whether your event is little or large. With almost an hour of video, extra resources, and assigned assignments, you'll master tactics employed by event gurus all around the world.
This event planning course walks students through the whole process of organising and executing a general event. The majority of modules are short, averaging 3 minutes in length, making them very easy to understand.
Setting an event budget, locating a venue, thinking about audio-visuals, and renting equipment are just a few highlights of the lessons.
When you sign up for the Skillshare 1-month trial, this course is entirely free.
The next course on my list of the top online event planning courses is a fantastic event management course taught on LinkedIn Learning, which has been taken by over 60,000 students!
This brief course is divided into ten modules and each module lasts for about 50 minutes. This course is designed for those who are new to event management or want to learn more about it.
This workshop covers topics such as how to negotiate an event budget, how to plan a meal for an event on a budget, how to organise transportation to and from the event, and how to staff employees and contractors.
This course is available to new LinkedIn Learning students for a one-month free trial period. A certificate of completion for event planning is also provided!
This is a four-hour online course on event planning. This is one of the most signed up courses on Udemy.
This programme covers topics such as event staffing, risk management, how to gain press coverage for an event, how to plan out all of the components of an event, and much more!
Regardless of the industry, this low-cost 4-hour Udemy course teaches students how to find clients and keep them with top events.
This event planning class, which has approximately 800 students enrolled, includes modules on how to appropriately determine a price for event services, as well as how to work with clients from all sorts of backgrounds, how to choose venues, manage risk, develop a timeframe for event planning, and use design strategies.
This 4-hour course teaches students how to construct a persuasive event plan.
Interviews and real-world examples are included in the event planning course. It explains the fundamentals of what event planners must deal with, from research to marketing and promotion. Students learn how to prepare a proper risk assessment for their events as well.
This 30-minute lesson teaches students how to create the foundation for an event's marketing. It streamlines the process by dividing event marketing into three distinct stages.
The course covers a very minimum of resources required to promote the event. Furthermore, the course contains a few useful Facebook marketing strategies. The relevance of SMS marketing is taught to students. The course's main advertising part concludes with Twitter and Instagram marketing tactics.
If you're just getting started in event planning, Learn Event Planning from Scratch – Earn $7,500 Per Event is a wonderful course to take. From the initial client contact to the post-event analysis, the instructor will guide you through all aspects of event planning.
The 1.5-hour session also covers skills such as planning process, event research, event decor and design concept development, dealing with stakeholders and vendors, and sticking to a timetable and timeline.
You'll also learn how to overcome obstacles and manage risk factors if something goes wrong at your event.
Are you interested in putting your organising skills to use it as an Event Planner or Wedding Planner? Do you want to acquire the strategies and tactics that will help you become the best in your business as an Event Planner?
The Ultimate Guide to Professional Event Planning & Management is one of the best options for you.
We'll walk you through all you need to know to successfully arrange events for a living in this course, including how to get most from the suppliers, create a detailed budget for the event and many more.
The instructor gives tips on how to adjust to the new format and create transformative online experiences for attendees and guests in this course.
The training covers how to keep your remote attendees engaged from beginning to end, as well as how to choose the ideal presenters.
Learn how to convey fascinating stories through your virtual event, how to engage with participants using user-generated content, and how to manage the overall production in this course. Plus, learn more about the financial benefits of online events and how they may help you reach a wider audience while also addressing the issue of sustainability.
Not everyone is made out for event planning. It requires a high level of planning, the ability to keep track of minute details, and the ability to stick to a timetable. These are critical skills that are difficult to teach in a class environment.
However, if you already have those skills, you might choose to consider event planning and management as a job or side business.
To determine if it's appropriate for you, take an online event planning course.
Watch the video below for more details.
Disclaimer: This blog is NOT sponsored. Some product links are affiliate links which means if you buy through those links, you won't pay anything extra and I'll also receive a small commission on a purchase.