Best Courses to Restart Career
Disclaimer: This post is NOT sponsored. Some product links are affiliate links which means if you buy through those links, you won't pay anything extra and we'll also receive a small commission on a purchase.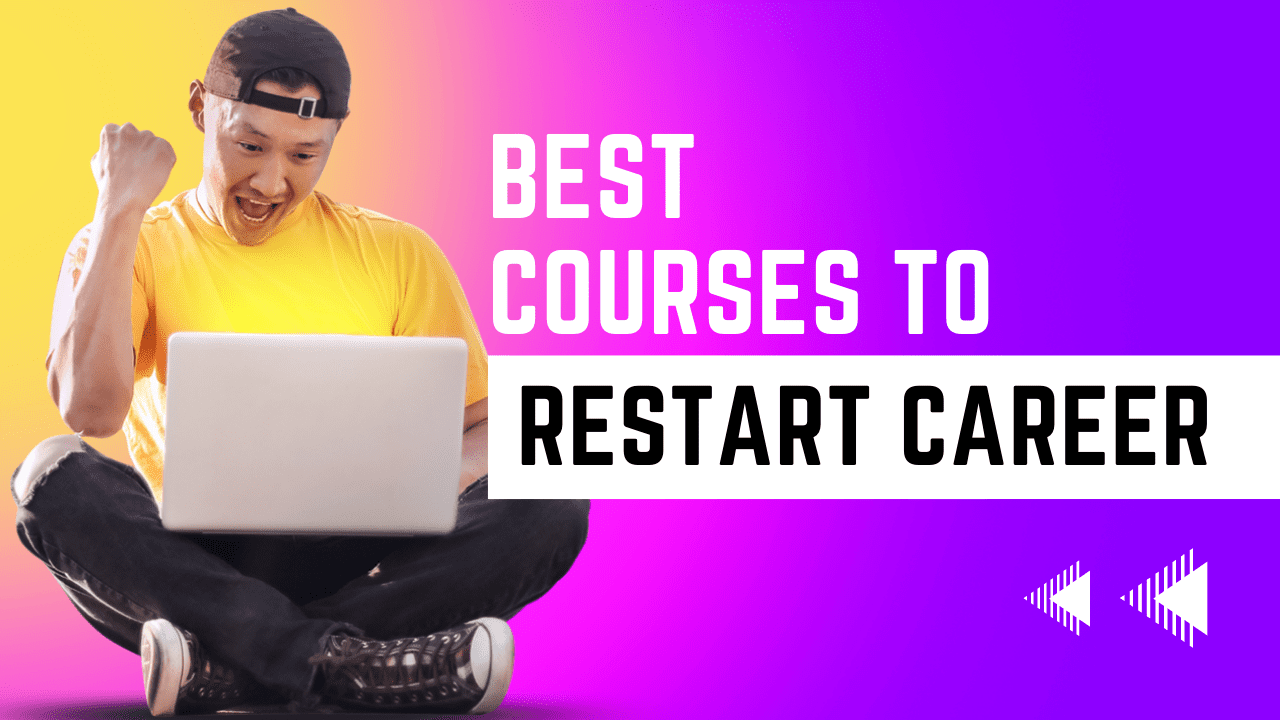 Assimilating back into the competitive work environment may be a stressful and intimidating process for anyone who has been out of the workplace for an incredibly long time. 
People who want to get back to work should aim for a gradual reassimilation process, with small successive steps that make the move from one stage of life to the next easier and more doable.
Those who are talented multi-taskers and who are unable to go out but yet want to develop their careers can take advantage of online classes. It is critical to carefully select a course to ensure that it is appropriate for your career path and fulfills your specific needs. The course selection process should be meticulous, as this will take a significant amount of time and effort, at least in the short term.
Here is a list of online courses that you can take and find helpful to restart your career.
6 Best Courses to Restart Career
Digital marketing is one of the most in-demand professional courses these days. It is a fantastic option because it provides a lot of work opportunities and a good salary. Digital Marketing is one of the greatest online courses since it can be completed entirely from the comfort of your own home while also allowing you to work from home. You can use digital marketing to enhance a company's online presence and increase its visibility to a big audience on the internet and social media platforms. Digital marketers are needed by both small and large businesses in the age of digitalization.
With India's digitalization, the demand for digital marketers is expected to explode soon.
Online interior designing courses provide you with a sense of flexibility. Many people, without the assistance of interior designers, decorate their homes, choose a wide range of items to place in their homes, and select only the best for their homes, indicating that they are familiar with interior designers' work. Their talents are polished when they study interior designing online with interior designing professional courses.
They can turn their passion for house design into a profession and make money at the same time. This is a profession that will never be obsolete or out of need.
This professional course is very popular these days, and it provides a lot of job opportunities. You can engage with your clients through videos, which requires both video production and video editing. The video editing course will be best suited for people and maybe completed at home due to the wide availability of the internet and an individual's passion for videos. This course might help you earn a lot of money and become financially independent.
4. Content Writing Courses
This is a very suitable career opportunity that is also in high demand. All you need is the ability to thoroughly research, produce, and edit your article. You can work as a freelance content writer from the comfort of your own home. This professional work will pay off good money for you.
People can work as blog writers, article writers, academic writers, online content writers, and other forms of writers in the content writing profession. The requirement for content writers will never decrease as a result of digitalization.
5. Graphic Designing Courses
With their creative skills, graphic designers assemble typography, images, or motion graphics to create various designs. It's one of the best online courses for people who want to learn at home and begin their careers. They will be able to design visual concepts to inspire, inform, and sell the client's products and services after completing the course. Postcards and flyers, magazine and newspaper adverts, posters and banners, and vehicle wraps are all examples of graphic design.
Very few people consider teaching to be a serious career, and it is frequently undervalued. Teachers, on the other hand, should be respected because they pass on their knowledge and educate students. If you have a bachelor's degree and an extensive understanding of a certain field, you should consider teaching as a great career opportunity. Teachers will always be in demand and you can certainly take a teaching course and become self-sufficient.
If you want to study something new and start a profession while living at home and maintaining a work-life balance, these online courses are for you.
These professional courses might help you restart your career. Choose the best course for you and you're all ready to start building your career.