Best Coursera Courses to get a Job
Disclaimer: This post is NOT sponsored. Some product links are affiliate links which means if you buy through those links, you won't pay anything extra and we'll also receive a small commission on a purchase.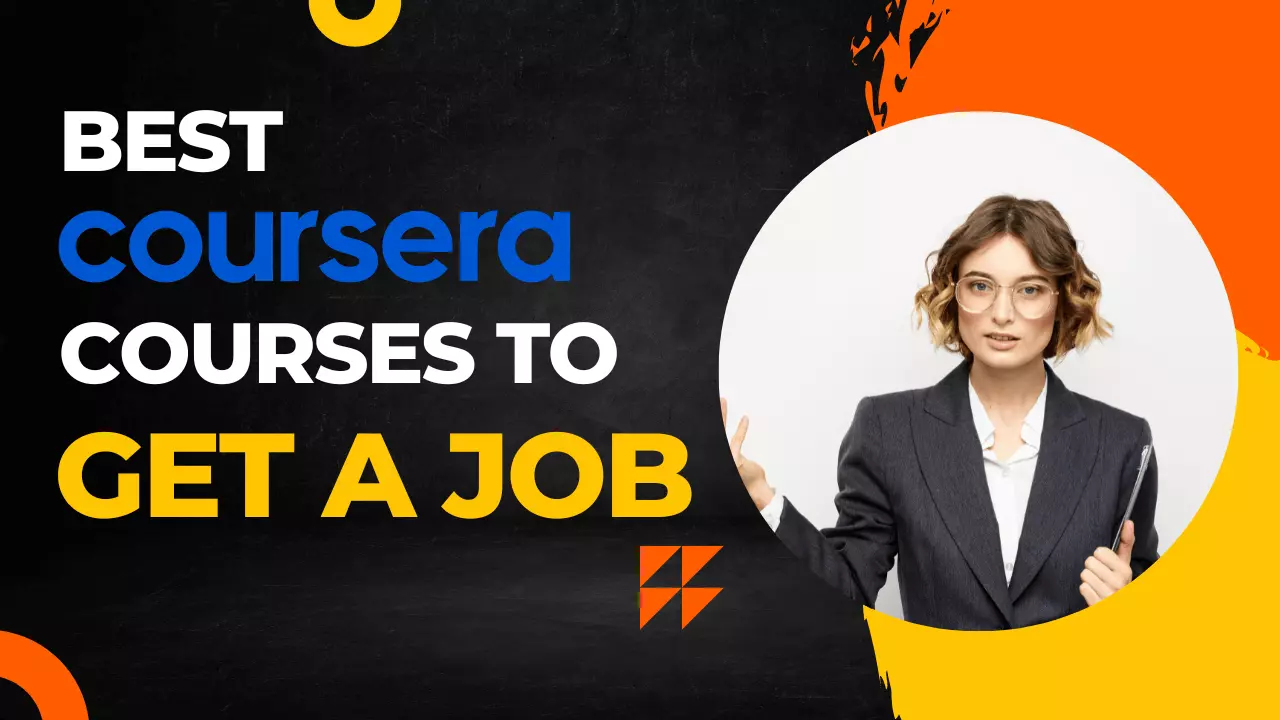 Are you wondering how to learn the abilities you'll need to get a job in the digital world? How can you improve the efficiency of your remote team management? How can you improve your productivity, creativity, and value at work?
These questions arise as a result of an increase in remote work, automation, and demand for rising technology skills in the past year.
We compiled a list of best coursera courses to get a job to assist you to stay professionally competitive in the world, based on these recent technological trends. These courses are designed for beginners and provide an opportunity to experiment or brush up on their past knowledge.
10 Best Coursera Courses to get a Job in 2023
Anyone wishing to learn in-demand technical skills to launch a career as a marketing analyst or improve their business analysis should enrol in this six-course industry-relevant programme created and delivered by Aptly's marketing analytics specialists and Meta marketers which doesn't require any prior knowledge in this field.
In this program, you will study fundamental marketing concepts, how data influences marketing choices, and how to use the OSEMN data analysis framework to tackle typical analytics queries. You'll discover how to gather, link, and analyse pertinent data using fundamental tools like Python and SQL. Additionally, you'll also learn about typical statistical techniques for audience segmentation, campaign evaluation, marketing mix optimization, and sales funnel analysis and you'll also get to put your new abilities to use with practical, business-related assignments.
Learn in-demand skills that will prepare you for an entry-level position as a junior or associate data analyst, database administrator, and more through this course of eight courses. You can complete the certification in less than 6 months if you work only about 10 hours each week.
You'll get a quick glimpse at the procedures and processes that a junior or associate data analyst uses daily. Learn important analytical skills such as data cleaning, analysis, and visualization as well as tools like spreadsheets, SQL, R programming, Tableau.
This certification course will teach you the fundamental Salesforce skills that will qualify you for many entry-level sales positions, including sales operations specialists.
The principles of CRM, how to manage leads in Salesforce, how to manage opportunities in Salesforce, how to use Salesforce to assure customer success, and how to successfully use Salesforce data through reports and dashboards will all be covered in four courses.
Data science is one of the most in-demand occupations of the decade, with a demand for data scientists who can analyze data and communicate results to inform data-driven decisions at an all-time high.
This program includes nine online courses that will teach you the most up-to-date job-ready technologies and skills, such as open-source tools and libraries, Python, databases, SQL, data visualization, data analysis, statistical analysis, and machine learning techniques. You'll study data science through hands-on practice in the IBM Cloud and using real-time data science tools and real-world data sets.
This eight-course IBM program will prepare you for a position as an entry-level data analyst.
Learn the fundamentals of data analysis and get an opportunity to try your hands-on experience to advance your data analyst career. You'll get practical expertise with data processing and analytical approaches through working with a variety of data sources, project situations, and data analysis tools, such as Excel, SQL, Python, Jupyter Notebooks, and Cognos Analytics.
This course will teach you about the fundamentals of cloud computing. You will obtain the core knowledge needed to both comprehend cloud computing from a business standpoint and to become a cloud practitioner. We look at several case studies of cloud computing across industry verticals and introduce you to some of the most prominent service providers of our time (e.g., AWS, Google, IBM, Microsoft, and so on).
You will learn about the different cloud service models (IaaS, PaaS, SaaS), deployment models (Public, Private, Hybrid), and crucial elements of cloud infrastructure, i.e., VMs, Networking, Storage – File, Block, Object, CDN).
Implementing a work-from-home policy is only one aspect of remote management. You'll learn and apply remote work best practices, create a remote work policy, and prepare your team for success in this course.
Current managers, executives, and human resources professionals who want to learn how to lead and maintain a high-functioning, scalable remote team will benefit from this training course.
You'll be able to gain and apply what you've learned about personal and professional awareness, organization, and commitment, as well as the tools, methods, and techniques to overcome time management challenges and boost productivity.
This eight-course Professional Certification course will provide you with the technical knowledge necessary to work as a Cybersecurity Analyst. Network security, threat intelligence, penetration testing, and vulnerability assessment are among the subjects covered in the instructional content and labs. This program is appropriate for people who are just starting in the workforce as well as those professionals who are changing careers.
Through this course, you can prepare for a career in the fast-growing industry of information technology. Get Google-based professional training which will put you on the fast track to a well-paying job.
Learn in-demand skills that will prepare you for an entry-level job through a course of five courses. You can complete the certificate in less than 6 months if you work around 10 hours each week.
Final Words
This isn't the end of the list when it comes to the best coursera courses to get a job. The key takeaway is that Coursera offers a lot of specializations in a lot of different career fields. If you don't find what you want in one course, keep looking—you're almost certain to find it some other course on Coursera that can help you develop the skills you need to get a job.
Besides those, you can always try out other niche relevant courses available on Coursera for your specific requirement.