Best C Programming Courses on Udemy
Disclaimer: This post is NOT sponsored. Some product links are affiliate links which means if you buy through those links, you won't pay anything extra and we'll also receive a small commission on a purchase.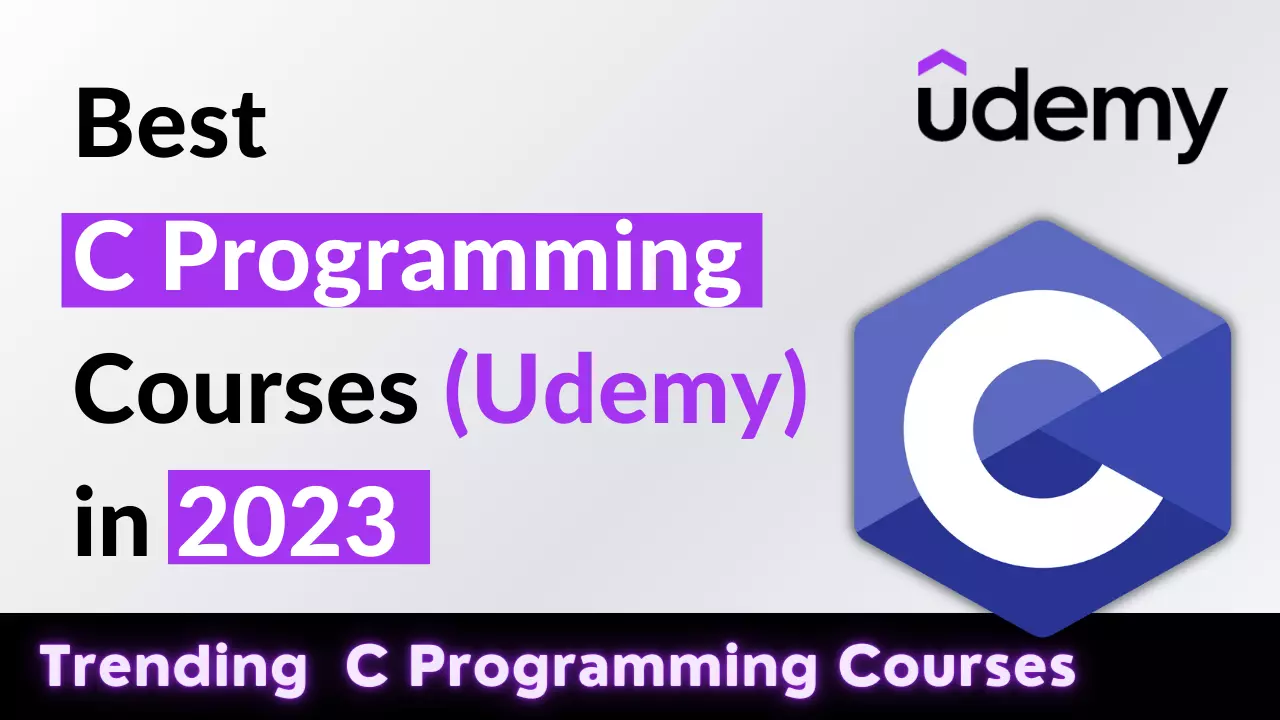 C is a computer language that every programmer should be familiar with. It is not only a simple language to learn, but it is also a powerful language due to its efficiency, structure, and ability to run on a variety of computer platforms. When it comes to system programming languages, C is the most popular.
Some of the most useful and popular software in the world is written in C or C++. That's how strong it is. This is why so many people want to learn the C and C++ programming languages.
So, you must be wondering what are the best Udemy courses are for learning C programming.
Here is a list of the best C programming courses available on Udemy.
5 Best C Programming Courses on Udemy in 2023
This Udemy course is designed for people who are completely new to C programming. The course was created to teach beginners how to code in the programming language in a short amount of time.
In short, even if you have no prior programming experience, you will be able to master C programming language after completing the course. It is also ideal for those who want to learn about programming in general or for those who want to brush up on their knowledge and C programming language in particular.
What the Reviews Have to Say
Most students find this course very helpful, with an average rating of 4.3 out of 5.0 stars, and they have praised the instructor for the clear and detailed instruction.
The course introduces you to C programming concepts and helps you understand the various features you'll be working with. It allows you to view source code and learn C in a step-by-step manner. Meanwhile, the videos contain very detailed instructions that will assist you in keeping up with everything.
What the Reviews Have to Say
Reviewers agree that this course is one of the best introductions to C programming, with an average rating of 4.4 stars out of 5.0.
This course is designed for intermediate C programmers who have a basic understanding of the programming language and its execution processes.
What makes this course interesting and unique is that it uses small C programmes to show you what each syntax does so you can learn by example. It also engages with a Q&A explanation format.
What the Reviews Have to Say
 More than 200 reviewers have given this course 4.3 stars out of 5.0. Most participants agree that the course provides an excellent review of C programming concepts as well as a practical understanding of the language.
If you're looking for a comprehensive C programming tutorial, here's another option.
The video lectures will take you from the basics to being confident enough to interview for an IT job writing software in C.
What the Reviews Have to Say
More than 1,600 reviewers gave this course an average rating of 4.4 stars out of 5.0. The majority of positive reviews state that this is possibly the best C programming course on the Udemy website and recommend it to everyone, particularly beginners.
It makes no sense to take two separate courses if you want to learn C first and then move on to C++ programming later.
Therefore, you are welcome to enrol in this course. Knowing both languages will also provide you with a solid foundation for learning additional programming languages.
The course will teach you how to write code in both C and C++, as well as how to understand object-oriented concepts.
What the Reviews Have to Say
This course received an average rating of 4.3 stars out of 5.0 from over 200 reviewers. They appreciate how thorough the lessons are and how simple it is to learn both C and C++.
Final Words
If you want to understand various computer programming languages, C is an excellent programming language to learn. C is a programming language that is used to create interpreters, operating systems, editors, embedded programmes, and compilers. You'll never be able to work with these if you don't know C.
Furthermore, C is fast in terms of execution time. C programmes run much faster than programmes written in other programming languages. This is due to C programming language's simplicity.
To summarise, if you're serious about coding or want a career in software development or programming, you should learn C because it provides a solid foundation for mastering other programming languages. It teaches you how to work with computing fundamentals.