Best Graphic Design Courses on Udemy
Disclaimer: This post is NOT sponsored. Some product links are affiliate links which means if you buy through those links, you won't pay anything extra and we'll also receive a small commission on a purchase.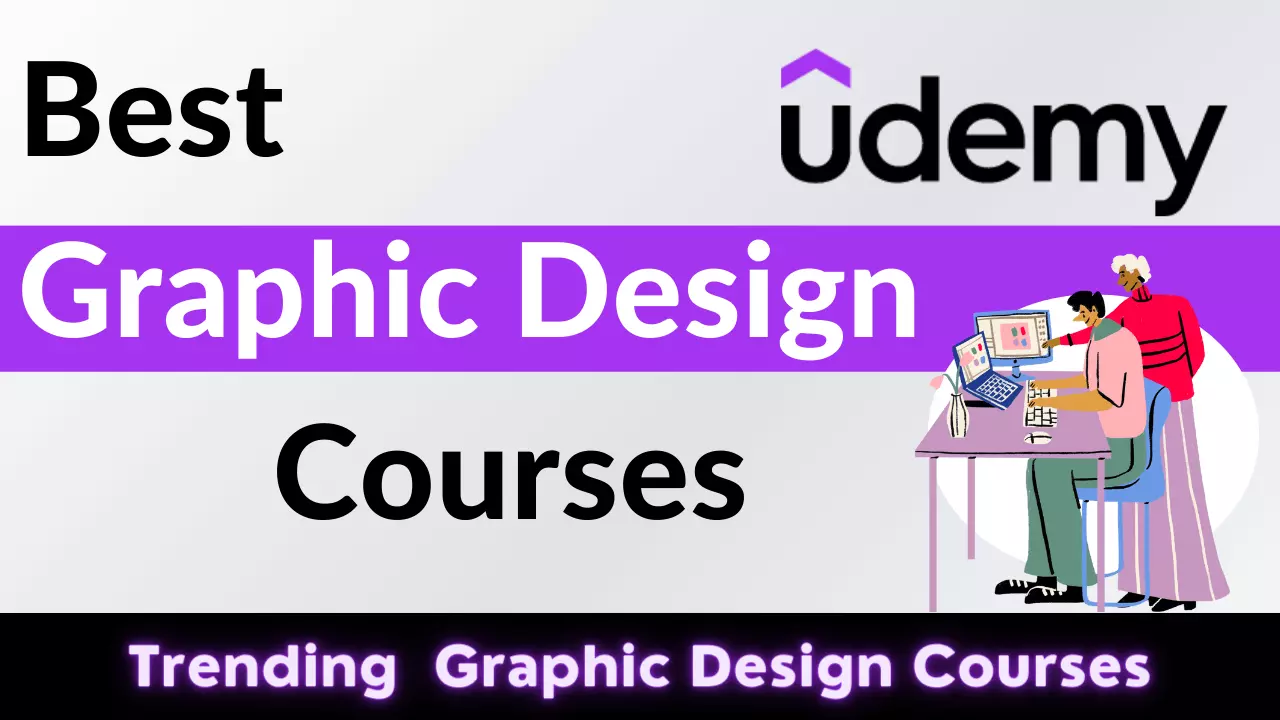 If you choose to learn graphic design on Udemy, it might be difficult to choose the right course because of the huge number of graphic design courses on the platform.
But don't worry, we got you covered. We sat down, did some research and created a list of 11 best graphic design courses on Udemy for you.
A good graphic designer has to create an overall impact on the work with the outcome being something that is visually pleasing, memorably appealing and useful. If you are on the path to becoming a designer, you'll want to learn as much as you can about graphic design.
Here is a list of best graphic design courses on Udemy curated just for you to kickstart your designing interests.
11 Best Graphic Design Courses on Udemy
In this Graphic Designing course, you will start by learning colour theory, typography, layout management and theories of design. It will take you through on usage of tools in designing softwares. Some projects include Logo Design, Print and Editorial Design, Package and Branding, UX/UI, Social Media Digital Graphics and many such things. It also touches upon some basics of Affinity Designer.
In this course, you will learn to design for both print and web projects. You will learn how to make refine selections using Photoshop, juggle with typography, shapes and colours in Illustrator. Then there is laying out of graphics and text while using InDesign to design an e-book. The course covers basics of logo designing, typography and colour usage. There are also fun challenges to make the course quite fun for learners.
This is a perfect course if you are starting out in this field. Some of the topics covered include Graphic Design theories, Colour Theory principles, Typography, Branding, Logo Designing, Layout Managing. The lessons are all well structured. Besides theories, there are also practical examples along with useful resources for the learner. The software used are Adobe Photoshop and Canva.
This course is concise and to the point for beginners. It is very detailed in its explanation of designing for advertising campaigns too. It also covers other interesting things like how to study the golden Ratio and creating a design by using only typography. The content is revised and updated many times in a year. As this is an intermediate course, it is assumed that the learner already possesses basic knowledge of Adobe Photoshop, Illustrator and InDesign.
This course covers various design projects like Icon Set Design, E-book cover, Digitizing sketches, Social Media Design, and many other things.  Along with the course, you can also get your hands on the resources important to implement your ideas on a design. By the end of this course, you will be able to create designs for social media campaigns from scratch, and create an entire icon set from the beginning.
This course is specifically tailored for entrepreneurs who want to control their branding through designs. This course will guide you through creating social media graphic, blog title Facebook cover/post/ad, YouTube thumbnail etc. It comes with 11 projects that are intended to give you a practical learning experience. These can be added to your portfolio too.
This course will start from the basics of designing for social media posts, ads, thumbnails for videos, newsletters, CVs, business cards and many other things like that. The learner is expected to have access to Photoshop CC. There will also be some need for Adobe Illustrator but most work will be done in Photoshop only. This course material consists of workbook with questions to answer, Facebook group where over 5,000 users share their designs and insights. There is also the live chat feature through Discord group chat. This course is perfect for bloggers, content creators and YouTubers.
You will be learning to use industry-standard applications like Lightroom, Photoshop, InDesign, Illustrator to fulfil your practical component. This course ensures to make you a job-ready designer and that is why we decided to add this to our list of best graphic design courses on Udemy. There is also over 15 thousand students in a Facebook group who work together on critiquing each other's designs.
This is largely a practical course where you will be learning as you are working on projects. These works will get you a better knowledge of design. You can also use these in your portfolio. Projects include creating Badges, logos, packaging design, Album Art cover, Magazine cover- these would be beginner level. More advanced projects include creating banners, postcards, digital ads, client presentations etc.
This course specializes in teaching you designing for branding materials for a client or a company. These could be t-shirt designing, logos, business cards, packaging design, letterhead, websites, advertising etc. You will also learn more on typography and making great and persuasive e-book cover. This teaches to create compelling layouts not only in digital products but also in print medium. This is an intermediate level course. It assumes you have a working knowledge of Adobe Illustrator, Photoshop, Adobe XD and Dimensions.
This one is a bit different from the other courses in this list of best graphic design courses on Udemy. This is a survey course. This means that instead of teaching how you create designs, you learn why a certain design is good and what makes it good.
Going by this, the instructor covers nine graphic design specialties. They are: Logos, Posters, Book covers, Packaging, Motion graphics, Websites, Environmental Graphics, Annual reports and Editorial Design. Using these degrees of features, you will learn about what makes some designs communicate a message effectively and others don't. This course assumes you have a working knowledge of industry tools of graphic designing. It will assist you in enhancing your skills to use this knowledge wisely.
Start one from this list of best graphic design courses on Udemy today!